Hi! I'm Matthias!
I'm a psychotherapist and author who specializes in religious and spiritual trauma. I've written a couple of books: One called Holy Runaways which is about rediscovering faith after being burned by religion, and the other called Beyond Shame which is about creating a healthy sex life on your own terms. I also host Queerology: A Podcast on Belief and Being and hold two master's degrees, one in theology and culture, and one in counseling psychology.
All that aside, I am most interested in helping people who have run away from their former communities find home again.
Welcome, I hope you find a soft landing here.
Holy Runaways:
Rediscovering Faith After Being Burned by Religion
Coming October 3
"Matthias looks at the perils and promises of belief, querying whether freedom can partner with the practice of religion. Holy Runaways is a testament to struggle, questioning, intelligence, intellectual exploration, and finally, to the belief that faith without flourishing is a contradiction in terms. It holds a mirror up, asks what its reader sees, and offers pathways of safety, life and freedom."
–Pádraig Ó Tuama, poet, host and author of Poetry Unbound
Pre-Order Via: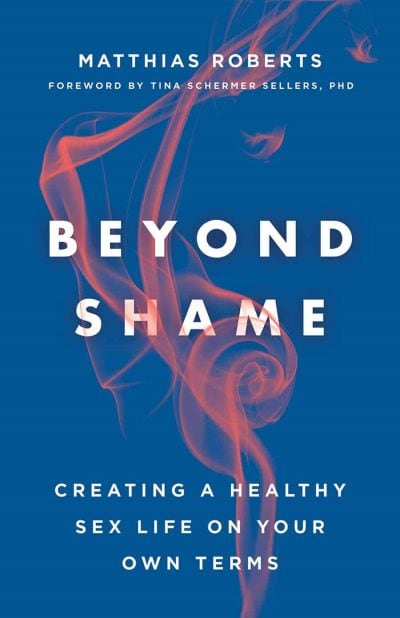 About Beyond Shame
We all carry sexual shame.
Whether we grew up in the repressive purity culture of American evangelical Christianity or not, we've all been taught in subtle and not-so-subtle ways that sex (outside of very specific contexts) is immoral and taboo. Psychotherapist Matthias Roberts helps readers work with their shame around sex by overcoming three unhealthy coping mechanisms we use to manage that shame.
Beyond Shame encourages each of us to determine our own definition of healthy sex, while avoiding the ditches of boundaryless sex positivity on the one hand and strict moralistic lines on the other. Define your sexual values on your own terms, overcome your shame, and start having great, healthy sex.

"Like Krista Tippett, a.k.a. radio's chief goddess of all things being-and-belief-related, [in Queerology] Roberts poses and embraces big questions—like, 'Is Christianity inherently queer?' and 'What does it mean to live authentically?'"
-O: The Oprah Magazine
Powered by RedCircle