It's been a great week on the internet. But, really, what week isn't a good week when you have the internet in your life?
It's the start of Black History Month, Julie Rodgers finally returned to blogging after a little break with a moving post, Isaac Archuleta announced a teleconference group for LGBTQ Christians, Jimmy Kimmel threw up the lights on some political candidates (that's that video up there), and I spent more time reading physical books than flipping through blogs, so I'm going to include those in here too.
Tips for Understanding Black History Month- 2016 Edition
P. Djeli Clark
"I'm not Black, why is Black History Month Important? Because. That's my answer. It's important just because. You think you understand the American Revolution? You don't if you have never heard of Crispus Attucks, the paradox of his martyrdom and why he was whitewashed out of history. You don't understand it at all if you don't know about Lord Dunmore's Proclamation and the role black people, both slave and free, played within–and why it's even mentioned in the Declaration of Independence. That's the thing. Black History doesn't exist suspended in the air somewhere hovering about outside of the broader historical narrative. It's not a set of trivia questions. Black people did not sit on the sidelines as spectators while history occurred. Black people were part of that history. They influenced it. They played roles. They were actors and agents. You don't understand Black folk history, then you don't understand history–period. Particularly the history of the United States."
How I Was Moved to Support Same-Sex Marriage in the Church
Julie Rodgers
"As the debate raged, I grew increasingly uncomfortable with the way the arguments shifted. Initially we were told we should become straight, so I tried to become straight. Then we were told a traditional theology meant lifelong celibacy, so I was on the celibate track. We were taught that a marriage between a man and a woman is primarily about sanctification: a place to learn how selfish we are in a sort of lifelong mini-monastery. We were taught that marriage is also about companionship because God said it's not good for humans to be alone. We heard that the marital bond creates an energizing love that overflows into the kind of hospitality that helps us to welcome the hurting into our homes."
I'm Tired of Feeling Alone!
Isaac Archuleta
"How do we understand that our relational offering is more accurately evaluated when we are being ourselves and not performing some dating call like elk during autumn? Even harder, how do we let ourselves live in the confidence as God's wonderfully created, LGBTQ child? In the teleconference group that begins on February 27th of 2016, we will explore how to understand our relational esteem, that which makes us invaluable, from God's creative design perspective. We will examine the development of human sexuality from a clinical/religious standpoint, how shame distorts our self- and relational esteem, as well as how to live in confidence."
The Inner Voice of Love
Henri Nouwen
This is one of the books I've been slowly working through. As a collection of short reflections, they're perfect to read with a cup of coffee before the start of your day.
That's all I've got. Now I'm going outside because it's sunny in Seattle and that's very rare.
---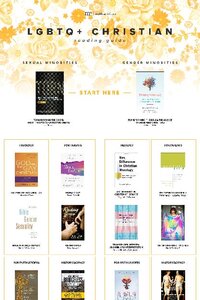 Get My LGBTQ+ Reading Guide!

Want to learn more but don't know where to start? This guide makes it easy.