It's pretty clear that the most important thing that happened this past week is that Beyoncé released a new song and video.
I say that partially with a smile on my face, and partially in full seriousness. In preparation for my Theology class this week, we read a piece by womanist theologian Chryl A. Kirk-Duggan, Justified, Sanctified, and Redeemed: Blessed Expectation in Black Women's Blues and Gospels. As our reading group discussed, we reached a general consensus that Beyonce's Formation very fits within this genre. The song and video is a cry of hope, salvation, and transformation.
Formation
Beyoncé
Watch the video. Then watch it again. And again. And again.
We Slay, Part 1
New South Negress
"Formation, is a different kind of resistance practice, one rooted in the epistemology of (and sometimes only visible/detectable to) folks on the margins of blackness. The political scientist Cathy Cohen talks about activism at these margins, the kind of deviance-as-resistance built and cultivated at the margins of respectable blackness. Formation, then, is a metaphor, a black feminist, black queer, and black queer feminist theory of community organizing and resistance. It is a recognition of one another at the blackness margins–woman, queer, genderqueer, trans, poor, disabled, undocumented, immigrant–before an overt action. For the black southern majorettes, across gender formulations, formation is the alignment, the stillness, the readying, the quiet, before the twerk, the turn-up, the (social) movement. To be successful, there must be coordination, the kind that choreographers and movement leaders do, the kind that black women organizers do in neighborhoods and organizations. To slay the violence of white supremacist heteropatriarchy, we must start, Beyoncé argues, with the proper formation."
Macklemore, Hillary, and Why White Privilege Is Everyone's Burden
Rembert Browne
"White privilege is like global warming — it's very real. With every passing year, the present continuously overwhelms, constantly ignoring the lessons from the past, in order to feel some degree of progress. But issues between whites and nonwhites in America from generations ago are too cyclical to pretend that anything has been buried, that anything has been forgotten. Many of the old points of tension are still here, in large part because white people still don't feel connected to the terrible acts of the past and are still waiting for those embarrassments to disappear from the collective consciousness. But no one's going to forget. Which means, at some point, white people will have to give up the delusion that the playing field has magically leveled, and actually go through the difficult process of really figuring out what it means to be white, and what you want it to mean for you in the future. In that, it means accepting the fact that white is a race. That the long-existing privilege of distancing oneself from perceived "bad seeds" who are white is just that: a privilege. No one else gets that luxury, so as uncomfortable as that may be — learning how to live under the negative broad brushstroke of whiteness (and not "some" whiteness) — just never forget how long you've benefited from that even broader brushstroke of positivity."
A Conversation with Deborah Jian Lee, Author of Rescuing Jesus
LA Progressive
"When it comes to race, one can trace white supremacy in the church throughout history, from biblical justifications for slavery and Jim Crow to the absence from or hostility to the Civil Rights movement. Even in recent decades evangelical seminaries and powerful church-planting networks have actively encouraged pastors to perpetuate segregation. Missionary specialist Donald McGavran's 1955 book The Bridges of God introduced evangelicals to church-growth strategy called the "homogenous unit principle." Borrowing from the sociological term homophily, which says birds of a feather flock together, this principle explicitly encourages church leaders to form racially and economically uniform communities to get membership to snowball. They used high rates of conversion to justify this behavior. The homogenous unit principle acted as a catalyst for today's "church growth movement" and was the pivotal evangelical expansion strategy that gave us today's mega-churches. The result? Wealthy white congregations that thrive while keeping their resources segregated from the rest of society."
Wheaton College students to begin fast of 'embodied solidarity'
Daily Herald
"The fast, organizers said, will 'lament injustice and demand justice.' 'During Lent, we will ask ourselves before our Living God: 'how are we complicit in the systems of oppression in our society, including financial institutions, the government, the church, and Christian colleges?" according to the Facebook page. 'During and following Lent, we commit ourselves to follow Christ, taking up our own cross, and proclaiming and embodying the Kingdom, God's righteous reign of nonviolent love and shalom justice."
PHOTOS: Students Picket Christian Colleges Seeking 'Right to Discriminate'
The Advocate
"The campaign, titled #GiveBackIX, 'is demanding Christian campuses be held accountable in creating unsafe learning environments,' a press release states. 'LGBTQI students deserve a campus culture in which they can thrive educationally and spiritually without fear.' The stated goal of the campaign is to convince the religious schools to nullify the waiver requests and to ensure total compliance with Title IX's protections from sex-based discrimination."
Losing Hope in Family
Constantino Duran
"Losing my relationship with my parents has been hard because it wasn't always like this. I had a happy childhood and an authentic relationship with both of them. They are good people, and they were good parents. I have never doubted that they loved me, and in their own way, they still do. But they are the product of a society where appearances are king. The opinions of others, in their world, become an idol, and having an openly gay child is embarrassing."
And, finally, just for a little fun:
"Rent-A-Minority is a revolutionary new service designed for those moments where you've realized your award show, corporate brochure, conference panel is entirely composed of white men. For, like, the fifth year in a row."
See y'all on Monday!
---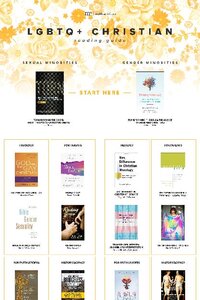 Get My LGBTQ+ Reading Guide!

Want to learn more but don't know where to start? This guide makes it easy.