If you're anything like me, you read a lot of things on the internet over the course of the week. And then you promptly forget about them.
I'm starting this thing where I'll attempt to remember some of my favorite things from the past week to share with y'all. Someday, instead of using my memory, I'll put together an Evernote doc to be organized and efficient. But let's be honest: nobody can figure out how Evernote works.
I'll be sharing my favorites every Friday!
No, Franklin Graham, LGBTQ Children Are Not The Enemy
by Benjamin Corey
"As I ponder this statement by Franklin Graham, I almost wonder if he's read the New Testament yet, or if he understood what he read if he did make it that far. Because you know what? This was the same attitude of the religious leaders of Jesus's time (the only group of people whose sin Jesus publicly rebuked). They couldn't fathom why Jesus preferred the company he kept, why he included the excluded, or why Jesus pushed back so hard when they questioned it."
7 Things the Transgender People in Your Congregation Wish You Knew
by Austen Hartke
"We have families and friends, meals and bedtimes, work and hobbies, concerns and plans just like you do. Granted, many of our plans for the day include things like 'don't get yelled at for just trying to use the toilet in a public bathroom,' and our hobbies may include working for the rights of transgender detainees stuck in the immigration system, but at the end of the night, those of us lucky enough to go to sleep with a roof over our head still dream, just like you do."
Watch for Austen's guest post coming next Wednesday!
God Will NEVER Leave Us
by Megan H.
"It saddens me that so many members of the LGBTQ+ community have felt judged and rejected by the Church for what is totally not in their control. I wish I could say that they are mistaken, or have taken it the wrong way. Because I can't, I have decided to write tonight about what I do know for certain. God is absolutely, 100%, in love with you. This is not just me talking, but a promise from Him."
#faithfullyLGBT Indegogo Campaign
I may be a little bit biased on this one, but we launched a fundraising campaign for #faithfullyLGBT this week. Help us out and get a signed copy of a book from Rachel Held Evans, Matthew Vines, David Gushee, or other awesome authors!
My Identity in Christ Includes My Sexual Orientation
by Kevin Garcia

"I know my identity is in Christ, but I'm definitely still gay. And you reminding me of the obvious by telling me, a gay Christian, that my identity is in Christ is super demeaning. Of course I know my identity is in Christ. Jesus is central to why I do the work that I do. He is the reason I get up in the morning and the reason I didn't kill myself a few years ago. He is the reason I worship so verbosely and with my whole body and look like a damn fool most of the time in Church. Jesus is my everything."
That's all for this week. Have a lovely weekend, friends!
---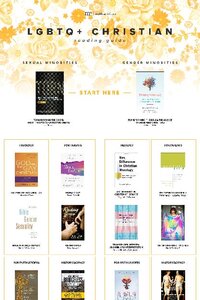 Get My LGBTQ+ Reading Guide!

Want to learn more but don't know where to start? This guide makes it easy.