I'm so excited to introduce you all to my friend Austen. He first reached out to me after I published my resource guide and has been a huge influence in my life and in the larger community helping to bring trans voices into our faith conversations. He is the creator of the YouTube series "Transgender and Christian," which seeks to understand, interpret, and share parts of the Bible that relate to gender identity and the lives of transgender individuals. Austen is a graduate of Luther Seminary's Master of Arts program in Old Testament/Hebrew Bible Studies, and is the winner of the 2010 John Milton Prize in Old Testament Writing from the same institution. As a transgender person of faith, his greatest passion is helping other trans and gender-non-conforming people see themselves in scripture, and to walk with them in their journey towards wholeness. Be sure to check out his blog over at austenhartke.com and his new Patreon at patreon.com/austenlionheart. 
---
The way I see it, coming out is a two-step process. First, you have to come out to yourself—you have to admit something deep and true about yourself that you may have wrestled with for many years. Second, you have to speak that truth out loud or in writing to someone else, which can be terrifying, since you never know how other people are going to react. As a transgender person who is also bisexual, I went through this whole process twice—first, when I came to understand my sexuality as a fourteen-year-old, and then again when I came to understand my gender identity in my mid twenties. Oddly enough, for all that practice, it never seemed to get easier!
Between these two coming out experiences, there was a third event that shared many of the same characteristics. At age twenty, I was baptized.
I remember walking into my associate pastor's office for my first baptism Q&A session. I had called him a week or so ago, and asked if he'd be willing to meet with me to talk about the possibility of my getting baptized. I had been born into a nondenominational church that didn't believe in infant baptism, but I had been attending this Lutheran church since I was fourteen, and it seemed like it might be time. I told him that I wasn't sure if I wanted to be baptized or not, but that I had a LOT of questions. I walked in that day with my Bible, a copy of the Nicene Creed, and a copy of the ELCA Statement on Human Sexuality, which included our denomination's recent word on same-sex marriage and relationships. I grilled my poor pastor for over an hour, trying to understand why we said we believe in the "holy catholic and apostolic church" when we weren't Catholic, and what I should do if I didn't think wives were supposed to submit themselves to their husbands, and did he think that people who had never heard about Jesus would really go to hell when they died? I was especially interested in his thoughts on whether or not I was automatically relegated to the fire and brimstone brigade for being bisexual, and for being in love with my best friend at the time. I thought that I had to make sure I subscribed to every belief that my church held in order to be worthy of baptism, and I was concerned that so many of my thoughts and feelings didn't seem to line up with those ideals.
I met with my pastor for another few weeks after that first meeting, each time bringing another list of questions, and another set of verses I wanted him to explain to me. He was patient and kind and just about the best teacher I could have asked for. Finally, he pointed me to a line in Martin Luther's Small Catechism that says "I believe that by my own understanding or strength I cannot believe in Jesus Christ my Lord or come to him, but instead the Holy Spirit has called me through the gospel…" My pastor pointed out that the question directed to me in baptism was not "Do you agree with everything the church says?" or "Do you agree that you have the strength and goodness to get close to God if you just try hard enough?" The question instead was "Do you accept the gift that God has already given you? Do you accept God's identity for you—that you are a beloved child of God—and will you let the church affirm that truth alongside you?"
In essence, when I was asked if I desired to be baptized, I was really being asked if I was ready to come out; if I was ready to admit that God loved me, that God had chosen me, and that I was precious and beautiful in God's sight. As someone with a sexuality and gender identity that was often condemned in popular culture and in faith communities, this was a hard thing for me to accept, at first. Sometimes, when you're so used to being told that you're somehow wrong and bad, it's hard to admit that you might actually be loved just exactly as you are.
But on the day when I finally stood in front of my congregation and said yes—yes to being chosen, to being loved, to affirming my relationship with God and the beliefs of the church, not because I agreed with every single word in the creeds, but because we, as a community, each held a part of that belief together—on that day, I knew who I was. And more importantly, I knew that God knew. I finally felt seen, and known, and loved, by God and by my community. It was the greatest gift I've ever received.
And in just a few weeks, almost eight years after that day, I'm going to be remembering my baptism with God's people again, with grateful thanksgiving for my new name. At my baptism in 2008 I was recognized as Alison, but this year I will remember God's promises and mine as I am marked with the cross and known again as myself—as Austen.
It will be a good and important reminder for me, and for my community, but I have a very strong suspicion that God may have known about my new name all along.
---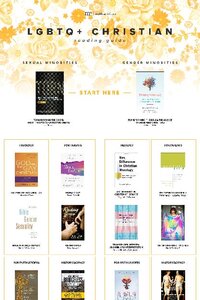 Get My LGBTQ+ Reading Guide!

Want to learn more but don't know where to start? This guide makes it easy.