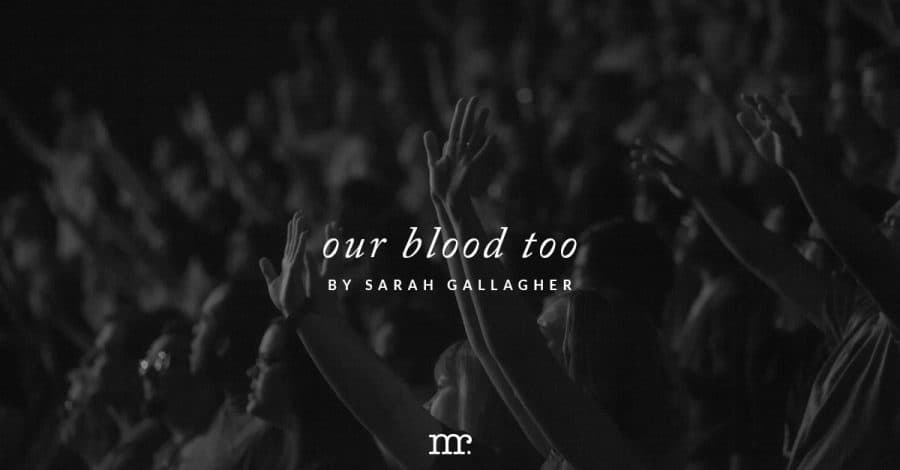 Sarah Gallagher is one of my closest friends. Her incredible strength and heart for the world astound me almost every time I talk to her, which is often. She shared these words with me after the events of this past week. Friends, please settle in and read this entire letter. I found myself nodding in agreement. I'm thankful for Sarah's way with words and her practical advice for people who are attempting to figure out how to move forward. Sarah blogs at www.nomoreordinary.wordpress.com and tweets at @vagabond32. (Photo of Sarah by Jeremiah Stanley)
---
Dear Church,
Today I am burning up with fever as my body is burning up with feelings because emotions are carried within us and mine are bursting through my skin and rising like heat as my body shakes with chill – shakes with the chill that while bodies are being buried, there are those taking aim to fire arrows of hatred into already bleeding hearts.
My name is Sarah. And I was your worship leader, your church planter, your youth group teacher, your children's worship program leader, your overseas missionary – the token 20-something always there when the doors to the church were open to encourage you and love your kids and pray for you in the back when your tears just wouldn't stop flowing.
But then I came out. Then you found out I was gay and I was bombarded with shame – (How could you? You KNOW the Bible! You are a Christian LEADER. And you are Leading People Astray.) The pastor whom I called brother overwrote my story with his own fear – talked over me for two hours to remind me of all the hell-fire verses sealing my fate if I dared to commit the unforgivable sin – if I DARED…to fall in love.
My worst fear came true. By revealing a part of myself – something that had been true since I was a child and that I had carried in secret since I was 12 years old – I was no longer of worth to the people who once looked to me as an example of a loving and committed Christian. I realized many of my friendships and mutually respectful relationships with other Christian leaders hinged on the presumed nature of my sexual orientation to be one of heterosexuality.
By being vulnerable and authentic and real and raw – by braving honesty and daring to hope that the Church would actually be the place of safety and security and support it claimed to be – I found myself, instead, on the outside of a community that had been my most sacred space for my entire life. And yet, it was there, in my loneliness and sorrow, that I felt closer to Jesus than ever before.
Prior to coming out, I spent six life-changing months as a missionary in Africa. Those long days involved stretching and aching and laying down my striving and trying to see who Jesus was outside of the confines of my American Christianity with its strobe lights and altar calls and legalistic checklists.
In Africa, God ripped away my security blanket of self-importance through religious status. And I realized I had actually been hiding in the church all along. Hiding the depths of my being from others – too afraid to be vulnerable and honest with my story. Hiding from the possibility that perhaps when God says I am "fearfully and wonderfully made," he meant every inner part – even the gay part of me.
I was reminded, in Africa, that Jesus wasn't a white American, but rather a radically inclusive Jew who overturned the cultural and religious customs of the day in order to demonstrate that God is the very essence of Love – and every act that draws people into that love is worth being misunderstood, condemned, hated, and killed. Because in the end, Love Wins.
I learned that, contrary to what I believed to be true, I did not know everything about God extensively. And in fact, my certainty about everything related to God was actually a detriment to my faith.
Suddenly, I was no longer afraid to ask questions of God. I was no longer afraid of hearing from the Holy Spirit and leaning into the beautiful mysteries of God. I was no longer afraid to say "I don't know" and be comforted by the fact that as a human, I don't have to know everything.
Because I know that perfect love casts out fear, I knew fear and love could not coexist. And because I know that God is the Incarnation of Love, I knew there was no fear within God. Therefore, I realized that those claiming to speak for God whose words and tone were colored by fear were perhaps, not speaking for God after all.
And it was in that place of softness and childlike wonder that I began to examine the heart behind so many teachings I grew up believing. And I began to ask – of every action and reaction – is this motivated out of fear or out of love? 
---
If you are still with me, there are a few things I need you to know.
I fell in love under summer skies while dancing and laughing with orphans under the moonlit skies of an African field. I fell in love amidst the heartbreaking weight of Christians turning their backs on the orphans they supported because their sponsoring agency dared to allow same-sex married couples to help advance their work to care for the orphan. And I couldn't help but believe that if my church community heard every detail of my love story – save for the gender of the one I fell in love with – they would have no trouble acknowledging the presence and power of God in it.
This love, that many have condemned and some Christian leaders even had the nerve to say should induce our "gag reflex," felt like a waking up – a resurrection of my deepest and most vibrant heart. While that relationship, like many first love romances, did not last beyond six months, the part of me that it awakened never went back to sleep.
Prior to my own love story, I never understood why friends of mine got so excited about going on dates or felt nervous around a cute boy. My college friends all knew me as the love skeptic. But when I fell in love with my first girlfriend, the dormant hopeless romantic within me blossomed into life and I wanted to serve and care for her in every way possible. I finally understood what it felt like to hold someone's heart in your heart and long to love and serve someone like Christ loved and served the Church.
This love didn't feel dirty or shameful at all. Instead, it felt like the most natural thing in the world to me and with each day, my romantic relationship with another woman brought me nearer to the heart of Christ. I understood Christ's love in a brand new way that my heart and mind had never fathomed before.
Of course, the whole process was scary. In the middle of trying to figure out my theology, I felt like God showed up right in front of me to see if I would trust him to lead me through uncharted territory. I was Jasmine and God was Aladdin – holding out his hand while floating in the sky on a magic carpet I had never braved before asking me, "Do you trust me?"
The reality? I didn't trust God. I knew the rules and had played by the Christian How-To book all my life. I wanted to still be applauded and affirmed by others Christians. I didn't want to risk anything – even though I knew it was God calling me out upon the waters – if it meant that I would lose the support of my church community. I had idolized the institution instead of revering the God the institution stood for. In ways, this journey of reconciling my faith and sexuality is the spark I needed to rekindle my faith and my love for Jesus.
As I wrestled within myself over what to do, I realized my attempts to make myself appear straight were not to please God – who designed and dreamed up every part of me on purpose – but to appease man. My fear of man outweighed my fear of God. And I realized it was time to take a leap of faith and ask the terrifying question, "what if this, too, is part of my story in order to bring you glory, Lord, and love others even better than I would be capable of otherwise?"
That question sparked an in-depth exploration of God's heart not only for my story, but for the stories and lives of so many others. I began to consume books detailing the journeys of other gay Christians (see recommendations below). I read compelling academic accounts from theologians who found Biblical evidence for an affirming theology. I attended several conferences where I met other LGBT Christians, listened to several speakers – including pastor Danny Cortez, worship leader/theologian Vicky Beeching, journalist Jeff Chu – talk about their own faithful study of Scripture on this topic.
Slowly and then all at once, I began to realize that God made me on purpose as I am. And that there are faithful Christians all over the world whose gender and sexuality, while different than the majority of people, do not inhibit them from fully experiencing and demonstrating the love of God. I began to believe the Church should not only affirm LGBT Christians, but also that the Church desperately needs LGBT Christians to offer examples of authenticity, graciousness, and intentional faithful pursuit of Jesus. Make no mistake – no one who identifies as a gay Christian is without the wisdom and passion it took to come to a place of boldly reclaiming their deconstructed faith.
I do not know anyone who would ever choose to be gay. But I know plenty of people who wouldn't change it for the world. None of us would ever choose the alienation, the judgment, the fear, the self-loathing, or the hatred such a reality entails. But I also know that most of us would not trade the experience of understanding "the outsider" for anything.
My gay identity is no more or less important than my Christian identity or my female identity or my creative identity or my cultural identity. It is one part of who I am and like every aspect of who I am, it cannot be untangled from the whole of me. But it is the identity that has most taught me that every story matters and that there is beauty in the diversity of the Body of Christ and that we must always exercise kindness and compassion in every conversation and interaction we have with another human being.
Being an out gay woman who loves Jesus means that I am not completely at home in either the gay community or the Christian community. It means that I am postured to be misunderstood from both sides. But perhaps, this leaves me best positioned to be a bridge for people on both sides of the conversation.
Christian friends, I need you to know something. I do not hate you. But I am wounded and frustrated. Too many times, my friends and I have been made to feel responsible for the emotional, spiritual, and mental processes of those who want to engage in this conversation. I cannot take on that role. However, I am willing to offer you some suggestions.
Do not use the phrase "I do not support their lifestyle." In fact, drop the words "issue" and "lifestyle" from your vocabulary altogether when engaging this subject, especially with LGBT individuals.

 My lifestyle is that I wake up when my alarm goes off and hustle to work like every other night owl who can't quite hang with mornings. I'm not a great cook so I try to cut down on my eating out but I always prioritize coffee dates or park walks with friends. My girlfriend and I make grocery lists together, plan times to hang out around both of our work schedules, both attend a weekly small group, intentionally work through disagreements and misunderstandings we may have together, and pray for one another in times of joy and sorrow. My lifestyle also entails reminding people of how loved they are by God, playing on a beer league kickball team once a week, and hosting outdoor movies in my backyard in the summer. That's my big fat gay lifestyle for you. Pretty simply human.

Do not put the onus of responsibility on your LGBT friend or acquaintance to do all of your Biblical and scholarly research for you in regards to same-sex attraction/Biblical cases for same-sex marriage. 

There are many helpful resources that I would encourage you to seek out for yourself before engaging in a conversation with a friend who has already done all of this work. Some titles I recommend are 

Torn by Justin Lee

, 

God and the Gay Christian by Matthew Vines

, 

Bible, Gender, Sexuality by James Brownson

, 

Changing our Minds by David Gushee

, and 

Walking the Bridgeless Canyon by Kathy Baldock

, to name a few. There are also incredible resources through the 

Gay Christian Network

 and 

The Reformation Project

, two incredible organizations committed to engaging in faithful dialogue and intentional community for LGBT Christians and their allies (and those who are genuinely interested in learning more about being 

faithfully LGBT

).

Practice the art of listening. 

This conversation is only productive when straight/cis individuals acknowledge their position of power and privilege and seek to hear stories from the minority voice. Those of us who identify as LGBT Christians do not do so lightly. Chances are, we are quite familiar with your arguments and Biblical interpretations. Most of us grew up with the exact same framework which tells you that same-sex relationships are sinful. If you truly want to understand, please give us a chance to explain why our belief that God affirms same-sex relationships comes from an equally high view of Biblical authority. Please understand that you, too, bring a bias to scripture based on your worldview and please believe us when we say that we have studied Scripture and have arrived at these conclusions based on our faithful study of the Word.

Wrestle with your understanding of the Holy Spirit's role in our lives as believers. 

Do you still believe God speaks to us today? Do you believe Jesus meant it when he said the Holy Spirit would be better than JESUS HIMSELF? Do you believe Jesus meant it when he said there was MORE to tell us that the disciples weren't ready for at the time? What if Peter hadn't taken the vision of the sheet with the clean animals seriously? What if he hadn't extended the Gospel and inclusion to Gentiles as the vision told him to? Yes, it flew in the face of Jewish teaching, but it was new revelation. If you believe the Holy Spirit is living and active in our lives today, there is a good chance you will better be able to understand how serious LGBT Christians are about including and relying on God in this process of affirming same-sex relationships.

Exercise the utmost sensitivity for those in the LGBT community, especially in light of the recent horrific tragedy. LGBT individuals of all faith backgrounds are aching and grieving in a unique way right now over the lives taken in Orlando. 

Straight friends – imagine your churches and families abandoned you – said the whole of who you are was tied up in one detail about you – and you found a new loving and accepting community that was vibrant and life-giving and suddenly, that community got gunned down. Imagine that they got gunned down for the same reasons your churches and families and communities abandoned you to begin with. That is why this hurts so much. We feel dehumanized and like there is a target on each of our backs. And when those who have contributed to the homophobia and the taking away of our rights chime in to say why this makes them feel so oppressed, it is insult added to injury. And quite frankly, while many of us are gracious and loving people, we are losing patience for the insistence that those adding to systemic oppression are actually the ones being oppressed. It ain't so, Church. It is time to acknowledge how Christian institutions have contributed to the culture of hatred and bigotry towards LGBT persons, even if it means swallowing some of your pride in order to listen to the pained voices of those uniquely affected by anti-gay rhetoric.

We do not hate you because you are Christian. 

In fact, many of us still identify as Christian – even after all of the persecution many of us have experienced from our home churches and other institutions that will not acknowledge us as whole people. We are hurt. We are tired. We are longing to be recognized for who we are – God-fearing individuals who have given all of our energy and prayers and hoping to coming to the place we have now landed theologically. We have given up much. Many of us have strained relationships with our families. But we are some of the kindest, most loving people you have ever met. And we want to extend grace to you in hopes of reconciling broken segments of the Body of Christ into one vibrant, diverse Body under the head of Jesus Christ.
I will end by saying this, if you still don't know why you should lend your ear to hearing a perspective that might be different than your own regarding full LGBT inclusion in the Church, here are several compelling reasons:
Because people are dying. Because reparative therapy is fruitless and damaging. Because we are all made in God's image and what if our LGBT brothers and sisters were made on purpose as they are? Because people who are in pain are asking you to hear their stories. Because God always chose people who didn't measure up or fit the bill of what the religious leaders thought leaders should look like.
Because Jesus was the most radically inclusive person to ever live. Because there are orphans made so because of homophobic teachings which promote the idea that cutting off one's gay kid is somehow honoring to God. Because the teen suicide rate for LGBT individuals is off the charts. Because there is no fruitfulness in telling someone to cut out a part of themselves before coming to God. Because there are compelling teachings which rely on the Bible to uphold an affirming theology. Because your view of the Bible is limited to your experience as a straight, probably white, American.
And while I have no doubt that you love the Lord, I do doubt your willingness to look your LGBT brother or sister in the face and see the very image of God that exists in every person on earth. Because when we deny those most hungering for love, we deny God himself. Because the LGBT community is afraid and desperately longing for those in the Church to act like Jesus. Because our stories are a continuation of every apostle's story – our lives are testimonies to the work of Jesus presently, in this day and age. Because the Holy Spirit is living and active and Jesus didn't tell us everything extensively while on earth. But he did promise the Holy Spirit would lead us and even be better than Jesus himself.
It isn't my job to convince you. I will not try beyond what I have said here. Just know that there are people who are suffering who are pleading with you to open your eyes beyond what you have been able to see. And within the faces of those suffering is the very face of Jesus himself.
The decision is yours. But you can never again say that you did not know what we were suffering.
Until we no longer weep,
Sarah
---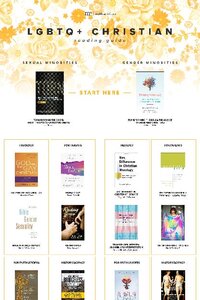 Get My LGBTQ+ Reading Guide!

Want to learn more but don't know where to start? This guide makes it easy.