My friend Lynn posted this piece on her blog and has graciously allowed me to share it with all of you. I have gotten to know her as a kind and wise person over the past couple years at The Seattle School. Her life experience of being born and raised in the Netherlands, moving to Canada, and now living here in Seattle gives her a rich and beautiful perspective. Lynn blogs at lynndiepenbroek.wordpress.com.
---
About every year and a half or so there comes a day on which I have something to say. And today is one of those. Because friends, I am scared.
I am scared because every time I open Facebook, my newsfeed is full of messages, memes, news items and videos opposing a certain presidential candidate. I am scared because every day I listen to the way my friends and I discuss the hate in this person's presidential campaign, the division it promotes and the violence it invites. I am scared because every time I talk to my family overseas, I hear the message of disbelief that this candidate is ranking so high in the polls.
Now, please bear with me.
I agree that a presidential campaign that feeds on the anger existing within a group of people and uses it toward a quest for personal power is dangerous. A mere glance at history teaches us that the scapegoating of a person or group of people will most likely result in an escalation of violence and destruction, not in anything that resembles what I understand the American dream to be.
Yet, the way we oppose Trump's message is, I believe, eliciting this same type of systemic division. In scapegoating and dehumanizing Donald Trump we are participating in precisely that type of system we are attempting to oppose.
I am scared, because in dehumanizing and scapegoating supporters of Donald Trump we are participating in precisely that type of system we are attempting to oppose.
Instead, I propose we look at what it is that Trump is so successfully feeding on. I believe Trump has very skillfully put his finger on fear and anger that has undeniably existed within a large group of people for a long, long time.
Yet anger and fear are not just a reality for supporters of Donald Trump. Out of the way we scapegoat Donald Trump and his supporters it can be concluded that anger and fear are as much a reality for Trump opponents as for Trump supporters.
Our collective anger and fear have successfully created a divide in this nation and it is rapidly escalating.
I believe the start towards bridging the divide is to start having genuine conversation – to genuinely listen to the other.
Right now our anger and fear prevent us from seeing the other person's viewpoint and arguably from seeing the other person as a person at all. To have genuine, unifying conversation we have to resolve our anger and fear.
Whether we believe our own or the other person's fear and anger are justifiable or not is in this context irrelevant. The first step towards genuine conversation is to acknowledge, without judgment, the anger and fear that has boiled beneath the surface of this country for so long.
Our anger is real. And so is the anger of supporters of Trump.
Let's acknowledge that.
Let's first make a vulnerable and courageous attempt to treat our own fear and anger with kindness, understanding and love, so they will not need to find an outlet in divisive action.
And then, if we have the emotional capacity for it, let's try listening to the other. Let's try empathy. Let's try love.
Only love has the power to change the human mind and heart. Only love has the power to transform anger from a dividing sickness into a unifying force.
---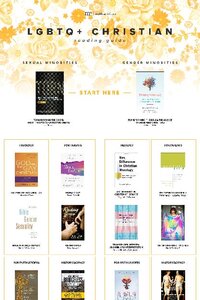 Get My LGBTQ+ Reading Guide!

Want to learn more but don't know where to start? This guide makes it easy.