My social media feeds light up whenever the subject faith and sexuality is the news — and it feels like hardly a week goes by that I don't see some sort of conversation. It is easy for me to look in on these discussions and feel unseen by my fellow Christians. Here are five things that I wish all people in the Church knew about gay Christians:
1. We didn't choose to be gay.
I'm still surprised how many people see my sexual orientation as a choice that I made. The increasingly familiar question "When did you decide to be straight?" is a good one for Church people to think about. I didn't choose to be attracted to men; that deep-set attraction was something that I gradually realized about myself. For a long time, I was horrified and attempted to redirect myself in a variety of ways, but nothing I tried worked. Yes, I can choose the actions that flow out of my orientation; however, I cannot choose the type of person I am attracted to.
2. Celibacy isn't something to be taken lightly.
Photo by Olga
---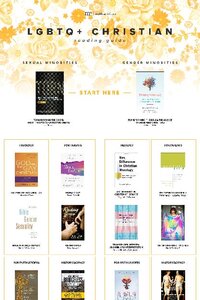 Get My LGBTQ+ Reading Guide!

Want to learn more but don't know where to start? This guide makes it easy.