It's been present with me for months. A dull grief sitting in the depths of my stomach, welling up from time to time, but mostly just there. As if it has found a comfortable home and has decided to take off its shoes and stay a while.
I've been learning to just let it be. To greet it with welcome, because any attempt to make it leave has only made it buy another rug and give me a look: "hey buddy, I'm not going anywhere." It is similar to my anxiety, whom I've recently named Peg. Might it be time to name the grief? Soon, I'll have a great big not-so-happy table of company.
This grief has been oscillating with hope. Sometimes the hope bounces up with expectation and proclaims "think of what we could do, together!" I'll sing along with it for a while (unlimited…together we're un-limi-ted!) and then grief will knock wondering what all the racket is about.
Today is the first day of Advent. A time where we tune into the already and the not yet. The grief and the hope. Death and the promise of new life. This tension feels so tangible in our world. On a large scale and in our daily lives.
I wonder about this grief. It seems to be directly linked to hope, coming after hope is dashed, yet also pointing towards something. It's a feeling reminding us things are not the way we wish they were. And yet it also carries a hope for the Thing That Is Coming. A little baby. Already. Not yet.
As we step into this season, one that is filled with so much, might we work to make room for the grief of What Is Not along with the hope of What Is to Come? For me, both of those are dull, faded, living within my body hiding under the blankets. For others, they're right out in the open, showing up with reckless abandon.
May we hold ourselves with compassion, buy a table runner, and say "welcome, let's eat" to everyone that shows up in this season. May the peace that surrounds us be tangible.
Happy Advent my friends.
---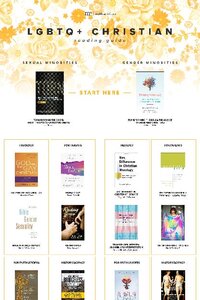 Get My LGBTQ+ Reading Guide!

Want to learn more but don't know where to start? This guide makes it easy.