My spirit is prodding.
Ever since I hit that publish button last night, something has felt off. Not quite right. I read through the words, again and again, I stand by these. I debate, internally, externally. Too harsh? Angry rant? As responses came, I found myself up late, thinking, asking, listening.
I tend to overthink things.
I know this feeling. I try to push it off as giving into my natural people-pleasing desire. The part of me that never wants to be in contention with anyone. But, it's just not giving. It's familiar, a soft, gentle ache in my gut. Something isn't right and you have a responsibility.
Yet, I read the words again. I stand by them. I think about the words, the two days of crafting that led to the post. Too far? Probably not. Warranted? Certainly.
But then I ask.
Where is the grace?
Where is the kindness?
Not in those words.
The post that has seen the most hits out of anything I've written doesn't show grace. The kindness that I see in Jesus's spirit is not present in the spirit of the words I wrote.
And that's not okay with me. It's not okay with my soul.
So, while I stand by the words, I do not stand by the way I presented them. I had opportunity to add to conversation, to shine light. But, I didn't. Instead, I let anger flow. I am sorry.
As I drove home from work tonight, I found myself getting angry again. Thinking through the things I read, the responses I hear, the double-standards that seem to be so present around me. And I realized, that's okay. It's okay to be angry.
But, I hope that in that anger, grace will still flow through me.
May I be a conduit for reconciliation. Not for division. That's a prayer I utter frequently. I didn't do the best job of that yesterday.
But.
Grace still flows.
---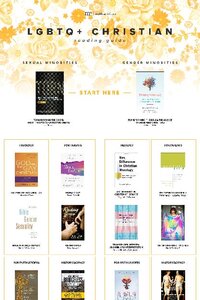 Get My LGBTQ+ Reading Guide!

Want to learn more but don't know where to start? This guide makes it easy.