"If you don't like the direction you are going, change it."
I sat at my desk in the small marketing and design firm I was working for and felt my stomach drop. I was browsing the company's Facebook page, and the "inspiring quote" above had been chosen to be broadcast across our social networks. I glanced around, worried that my coworkers in our brightly lit collective workspace could hear the thoughts that were blaring in my head: No! I don't like the direction I'm headed!
Just a couple days before, I had found a packet from The Seattle School in my mailbox that contained the paperwork I needed to fill out in order to decline admission—for a second time. I had chosen my path the year before when I took my dream job at this trendy new design firm. I knew I was saying goodbye to my dream of The Seattle School by accepting the job offer, but at the last minute I checked "defer admission to next year" instead of "decline."
That afternoon, as I sat at my desk, I was keenly aware that this new round of paperwork was due the next day. I had been avoiding it. Every time I picked it up to decline, I couldn't quite bring myself to fill in the bubble. I had already told everyone at the school that I wasn't coming; this was just a means of making it official.
The pit in my stomach grew as the afternoon drew on. I tried to focus on my work, but I couldn't stop thinking about the quote.If you don't like the direction you are going, change it. As soon as 5:00 hit, I rushed to my car, pulled out my phone, and proceeded to try to explain to my sister what was happening. "Am I crazy?! I have a great job! I love where I live!" It took her two hours to settle me down…
---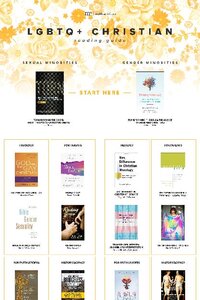 Get My LGBTQ+ Reading Guide!

Want to learn more but don't know where to start? This guide makes it easy.