It is Monday. The weekend is over. Church is done. We are moving back into the routine of weekly life. The coming and the going, the rhythms of our days. Around us the world moves and we move with it. In and out and through. If you're anything like me, we'll get swept up within it — autopilot — and wake up on Friday, blinking, and wondering what happened.
Breathe.
Take in that deep breath, let it out, and settle in. Here is a reminder: we are so deeply loved. The light that flows around us is full of Love.
This past week may have been awful. Your existence may have been challenged. Your faith may have been questioned. As LGBT Christians, I know how often this happens. We constantly feel like we have to fight for the ground on which we stand. You may be walking back into these spaces, again and again, weary. This Monday may feel more like death than possibility.
But, I'll say it again: you are so deeply loved. The One who reached down into the dust and breathed life is still breathing. The ground from which you are made does not need to be fought for. It is you and you are beautiful and wonderful.
Breathe. Sync your breath with the breath of the world. The breath of the God who gave us our first breath. It is a breath of love.
You do not need to do more. You do not need to fight more. You do not have to defend more. You are loved. No matter what they say. No matter who 'they' are. No matter how much 'truth' they use to temper that love. The Love that surrounds you is not conditional. It is not dependent on your goodness or your badness or what people say.
Today, as we move into the world, may we let Love fill us and bring us into the fullness of who we were created to be.
Beautiful and wonderful.
---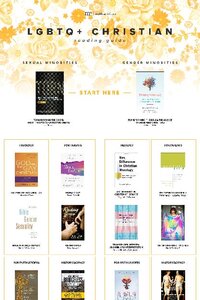 Get My LGBTQ+ Reading Guide!

Want to learn more but don't know where to start? This guide makes it easy.