Recently, a friend of mine came out to his parents. They responded well (as in, they didn't kick him out of the family, and that's considered well in this world), but something that his mother mentioned stuck out to me: "Since you've never been in a relationship with a guy, I'm not sure that you're actually gay."
I've heard this from my parents as well. How can I call myself gay when I've never actually done anything "gay" (aka, never dated, kissed, held hands, let alone anything sexual)? The argument went something like this: people aren't labeled thieves until they've actually done the act of stealing something. Thinking about stealing something doesn't make a person a thief. Likewise, a person can't actually be gay without doing something homosexual in nature.
When I first had this conversation with my parents, it bothered me for weeks. Their logic seemed solid, but it just didn't feel right to me. I was still in undergrad and it was a particularly bad time of the semester, so I didn't have much time to process. I knew, without a doubt, that I was gay. But, they had a point, how could I claim homosexuality without any sexual experiences?
I have a document on my computer that I keep as a running stream-of-consciousness thought collection. Kind of like a journal, but way less organized. When I need to process, I open it up and type away. I rarely go back and read what I've written, but I remember the day where I was so bothered by this question that I sat down and typed for several hours:
"What about heterosexuality? By the same logic as above, only people who have participated in heterosexual sexual expression can consider themselves to be heterosexual/straight. Anyone who has not had an interpersonal sexual experience cannot claim to be heterosexual/straight. Or even a sexual being.
Isn't sexuality bigger than simply an act with another person? What about sexual expression that occurs without other people? Can these play into sexual identity? Can a person who has experienced heterosexual intrapersonal sexual expressions call themselves straight? What about a person whose intrapersonal sexual expressions are homosexual in nature? If all forms of sexual expression come into play, can one not claim to be straight or gay based upon their own sexual preferences?
Do we not see Biblical evidence that sexuality is more than simply a physical act? Is it not mental as well? Jesus taught that "You have heard that it was said, 'Do not commit adultery.' But I say to you that whoever looks at a woman to desire her has already committed adultery with her in his heart" (Mt 5:27-28).
What about sexual expression that is not sinful? The essence of sexuality – attraction – the biological urge, the inner parts of sexuality that draw us to certain people and not to others. The parts of sexuality that occur before the mind can take over and process. The urges that happen and the involuntary responses that we can choose to entertain or not. Are these not part of human sexuality? The young person who has never lusted, never masturbated, who is just awakening to sexual expression – does that person not still experience human sexuality? The young man who has successfully conquered his thought life and who does not struggle with lust on a regular basis. Does he not still experience a form of sexuality when he is around a person that he is attracted to? Can one not determine sexual preference from these involuntary sexual urges? Certainly one knows what those expressions are geared towards, homosexual or heterosexual.
Thus, cannot a person derive a sexual identity based upon the whole of their sexual experience regardless of if that person is actively engaging in interpersonal sexual relationships?
Sexuality is more than simply an action. It is a complex combination of biology, mentality, and physicality. This is in contrast to something that is merely an action, such as the example of stealing. The only way someone becomes a thief is by stealing something. Someone may desire an object but that desire is not stealing. This person may think about ways of obtaining the object, one of which includes stealing, but the thought of stealing does not make a person a thief. It is only when the person steals the object does the person become a thief. Stealing is in its very essence exclusively an action.
Thus, when people make claims of being "straight" or "gay" they are referring to the whole of their sexual identity, the biological, the mental (when manifested), and the physical (when manifested). One cannot restrict these descriptions to the narrow scope of simply relating to interpersonal sexual encounters."
I think there is a tendency to think of a person's sexual preference in terms of just that – sex – but the reality is that our orientations go far beyond that. To reduce sexual experience to being strictly interpersonal ignores the complexity of our sexuality and completely removes intrapersonal experiences from consideration.
Yes. I'm actually gay.
---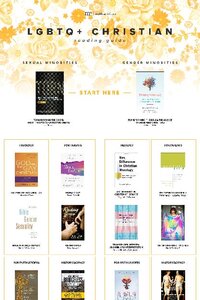 Get My LGBTQ+ Reading Guide!

Want to learn more but don't know where to start? This guide makes it easy.