I've heard people say that they cling to their painful thoughts because they're afraid that without them they wouldn't be activists for peace. "If I feel peaceful," they say, "why would I bother taking action at all?"

My answer is "Because that's what love does."  To think that we need sadness or outrage to motivate us to do what's right is insane. As if the clearer and happier you get, the less kind you become. As if when someone finds freedom, she just sits around all day wiith drool running down her chin.

My experience is the opposite.

Love is action.
A few days ago, I was having a conversation with my mother. As we chatted through what the past few weeks looked like, some of the things I've recently posted came up. She often asks about responses I'm getting and I relayed to her an email I received from a close family friend, someone who I consider a second mother: "[reading your blog] reminds me again, how much I love you. I love your mind, who you are, your scones, and gee whiz, you paint a target right on your tummy some days….And I think, thats my boy……"
My mom laughed, and then asked, "Matt, what do you think she means when she says you paint a target on your stomach?" It was one of those probing questions, not born out of curiosity, but a wondering if I see what I'm doing to myself. "I think I often say things that make people uncomfortable." I could see her face in my mind as she smiled in agreement, "Matt, sometimes you seem like you're angry at the evangelical church. Are you angry?"
The question threw me off. Angry? "No! I'm not angry Mom." I was puzzled, I wasn't really aware that the things I have been posting are coming across that way. "I'm frustrated though, very frustrated."
I've been pondering this frustration ever since. It's so easy to construct a straw man named "Evangelical Church" and throw negative things at it. I do this. I belong to a couple groups – both online and in person – that act as safe spaces for LGBTQ Christians. Hardly a day goes by where I don't hear a story of another way the church has failed these people. A few nights ago, I went to sleep with tears in my eyes after I had a conversation with a friend who spent Easter alone because his family won't even acknowledge his existence. There is so much pain in this world, and sadly the church has played a large part in this. This is what frustrates me. These conversations are what keep me writing, posting, pushing against the mainstream with a plea to slow down and see people as people.
But, then, I ask myself. Am I seeing these people as people? Am I extending the same service that I am requesting for myself and my friends? Or am I lumping them all together into a monolithic group?
Who am I to claim a monopoly on loving well? Who am I to place people on opposing sides, perpetuating a battle motif that is already tired. Because, as soon as I do that, I see Jesus on the other side. Waving to me with a wry little smile on his face. "See, I'm over here too."
Seriously Jesus?
Last summer, I came out to the pastor of the church I grew up in. I was nervous, I didn't know how he would respond. The church, a beautiful evangelical community that I still consider my family, is founded on a principle of grace. It permeates the fibers of every message given, the songs sung, and conversations around coffee. Would this grace continue if I shared my deepest secret? As we ate lunch in a small Chinese cafe, he asked about how my four years at JBU had shaped me. If I was going to do the question justice, my pastor needed to know about this part of me. I whispered a prayer and said the words, "Pastor Charles, I'm gay."
It caught him off guard, I could see genuine surprise in his face. As I shared context and about how college specifically helped form some of my understandings of life, I had a hard time reading him. Then, he began to ask deep questions. Good questions. And I felt heard.
At the end of the conversation, he spoke words that are still humbling to me. He told me that whatever I decided, whether it be singleness or relationship, he trusted my decision. He trusted that I was leaning into Jesus and that I was listening and striving to live life following the God we believe in. The weight of that trust is still sinking in.
And I wonder. Can I do the same? Can I trust that other people are leaning into Jesus and striving to follow God even when their conclusions don't align with what I think is right? I wonder. Is this what the church is? A place where we trust our God so much that we can find grace and love within polarization? A place where instead of staring each other down across a chasm, we walk side by side and find Jesus between?
This is what keeps me writing. I'm not angry. But, I do believe what I am saying and sometimes I bring intensity into that. I also believe that the areas where I am most frustrated are beautiful spaces where we can build bridges. May that building begin with me.
On May 1, my blog will be transitioning to it's own place on the web – notboringyet.com. With that transition comes the launch of a brand new series that I cannot wait to share. My hope is that it will facilitate conversations that build some of these bridges.
Let's continue,
-Matthias
---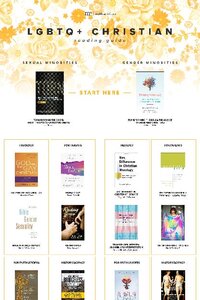 Get My LGBTQ+ Reading Guide!

Want to learn more but don't know where to start? This guide makes it easy.