With this morning's Supreme Court ruling on same-sex marriage, let's not forget what's most important.
It's a historic day. The Supreme Court has just ruled that same-sex marriages are a right. As our social media feeds begin to bury us with countless news stories, blog posts, reflections, and "I don't usually say…" posts, may we not forget what is the most important.
People.
For those of us who are celebrating, we must resist the temptation to rub our happiness in the faces of those who don't agree with us. Celebrate with full abandon, but let's not do it at the expense of our friends. We, of all people, know what that is like. It can feel so good to return the favor, but let's be careful.
We still have work to do. As more and more churches introduce inclusionary practices, it is our time to step up. LGBT Christians are in a unique place to speak into this culture shift: from a place of faith. We are able to step into our communities and help guide them into spaces that are sensitive and dignifying. This is (unfortunately) a new thing to many people. We must speak with voices of grace, kindness, and an understanding that change will continue to take time. Jumping all over people because they didn't use the right term, or because they have objections to our theological ideas, or because we don't see eye to eye, will not help anyone. Today's ruling isn't filled with magical "now we are fully accepted!" powder – yesterday's challenges are still here.
For those of us who are not celebrating, we must also be careful with our words. There are people listening, people we may unintentionally drive away. By posting that status with a 'clear proclamation of God's truth,' we may be ruining our witness. Is this a time to stay silent? No. But it is a time to craft responses that uphold the personhood of the people who we are discussing. Speaking what we believe to be truth does not give us a pass on the spiritual fruits of kindness and gentleness.
Beyond how we are responding to today's news, there's a deeper reality. Kids are still sitting scared behind their closet doors terrified of the words that they will be hearing coming from their parents' mouths. There are kids who are once again vowing that no one will ever know about their sexual attractions because the stakes are too high: be gay and labeled sinfully dirty, or stuff it all down and remain untarnished.
Many of our churches and faith communities are not safe spaces for LGBT people. This sad reality goes beyond our views on the morality of same-sex relationships or what we believe about trans people. It reveals how we treat people who are different than us and is a direct reflection on how well we are carrying out Jesus's great commandment to love God and love others. There are many people who are scared to walk into our churches because they don't know how they will be received, or what they will be told. The Supreme Court ruling doesn't change this, in fact, it may make things even worse.
News like this has a tendency to flare up internalized prejudices in all our communities (not just in our churches). As followers of Jesus, today's ruling gives us another opportunity to show and spread the radical love of Christ. This love is offered to everyone, especially people who are different than us. It is a love that combats prejudice in all forms, it is a love that drives out fear of the other, and it is love that we all possess.
In celebration or in sadness, we can choose to focus on what is really important: the people around us. We can choose to love them deeply. For some of us, that love may be swallowing our pride and sitting with people who are grieving as they pray for our country – and praying with them. For others, it may be hugging and sharing joy with our neighbors who are finally able to get married. As we focus on the people who surround us, we invest in relationships and human lives.
At the end of the day, we are all people who are deeply loved, and we are called to be people who share that love without qualification.
---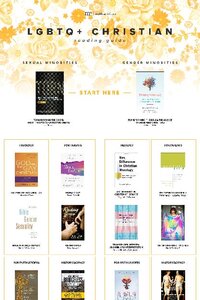 Get My LGBTQ+ Reading Guide!

Want to learn more but don't know where to start? This guide makes it easy.