"A conversation is a dialogue, not a monologue."
-Truman Capote
Several weeks ago, I wrote a post called "How Do We Love?" My goal was to provide some practical ideas on how to show love to people in the LGBTQ community. In it, I shared the idea that if you have nothing less than an active, genuine, deep friendship with a person, you don't have a place to engage in confrontation. In thinking about that statement, I feel like some clarification needs to be made.
There's a difference between confrontation and conversation.
I was recently at a friend's wedding. In between stuffing cake in my mouth and attempting to dance (my typical approach is to bounce my knees and slightly raise my hands past my elbows. The key is to never let either one of my feet come off the ground….it's pretty fabulous), I sat down with a friend of mine who I hadn't seen in a long time. We chatted for a while and then she brought up the blog and we began to talk about it. We didn't get very deep because Kesha may have started playing, but I left feeling warmed. This friend and I probably don't agree in our ideas about LGBTQ issues, but the fact that she was willing to talk to me about the difficult topics anyway was encouraging.
Counter this with other times where I have been approached with an instantaneous "you are sinning, here's why" and it's pretty easy to see the divide between conversation and confrontation.
Most of the LGBTQ people I know are open to conversation. Sometimes, the idea of it can cause anxiety beyond belief, but if you approach me with warmth and the promise of friendship, I'm happy to oblige. I love conversation. If I haven't seen or talked to you in years, all the better. Let's connect, learn about each other's lives, and get some good dialogue going. If we don't agree, that's fine, talking through our disagreements can provide a space where we both leave mutually encouraged. If you aren't near me, we can Skype, or facebook message. I don't care, as long the approach is conversational.
The great Merriam-Webster Dictionary defines conversation as an "oral exchange of sentiments, observations, opinions, or ideas." The word that sticks out to me here is exchange. As in, we are both giving and taking from this event. It's not a one sided presentation of an idea. I'm not sitting across from you attempting to smile and sinking further into my chair (all the while trying to figure out how to knock my foot against the table hard enough to spill your coffee and bolt in the confusion). Conversation is an acknowledgement that the person across from me has worth. That this person's ideas and viewpoints, despite whether I agree with them, are important enough to engage with. Conversation is letting go of the idea that we must convince each other of how right we are. Instead, we open ourselves to learning. This is how we engage.
Of course, there is often more to confrontation than a one-sided conversation. However, without that element of deep relationship, we don't have the right to approach someone in this way.
Brené Brown (yep, y'all knew this was coming, it wouldn't be a blog post without a Brené reference) talks about how she keeps a 1×1″ piece of paper in her wallet that contains a list of eight names. These are the people who's opinions about her actually matter to her. Eight people who are close enough to be able to come up and say "Brené, I'm really concerned about the way you are living your life." That's the kind of relationship it takes to warrant confrontation. It's interesting to me how the confrontations that I have experienced from people close to me are actually are framed as conversations. Maybe we can learn from that too.
Conversations are worth having. They sharpen us. They allow us to exchange complicated ideas and grow as physical and spiritual beings. If we are seeking relationship with each other, the place to start is conversation.
Let's converse.
——
Heads Up! Content on the blog is probably going to be a bit spotty for the next month or so. I'm working on moving across the country and transitioning into grad school. I'll try to keep up, but giving myself space to adjust will be the top priority.
---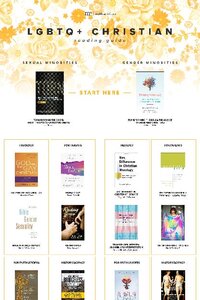 Get My LGBTQ+ Reading Guide!

Want to learn more but don't know where to start? This guide makes it easy.