Sois présente ici, maintenant.
I am a firm believer in intergenerational friendships.
Some of the most fulfilling and enlightening people in my life have been much older than me. It is humbling and exciting to spend time with someone who is looks at life from an entirely different perspective than my twenty-two year old mind can comprehend. The past few weeks have brought the beginnings of a friendship with one of the most remarkable people I have ever met.
Madame Bailey.
I spent my entire four years at JBU hearing about Madame Bailey. My freshman roommate had her as a professor in both French and Western Civilization and I couldn't get him to shut up about her. Many of my friends would take her classes and exuberantly describe to me how amazing she was. And yet, I didn't meet her until the day of my graduation – and then just briefly. After last month's blog post, a series of circumstances led to me sitting with Madame Bailey one evening at the small cafe down the street from my flat.
With russian smoked tea in hand and a warm glow from the floor lamps, we talked about many things. God, creativity, theology, mutual friends, and my experiences being gay in a conservative Christian community. I was struck with the wisdom that she carried, it permeated her entire being, and we parted with promises of another conversation soon.
This afternoon, our conversation was less deep: how to build a website, Project Runway, interior design, color theory, and ideas on how to create inviting spaces for learning. Later, as I texted her some promised information, a portion of her response caught me off guard.
"I really like your way."
It is a profound complement, one that still has me smiling. It also has me thinking. How often do we pay attention to the way others exist? How often do we complement our friends simply for being who they are? It is simple and beautiful, and, unlike most affirmations, it lifted my core.
I want to learn to do this – to appreciate people for who they are, not what they do. Then tell them. As we walk through life, meet new friends, and build relationships, may we learn to appreciate each other for simply being.
Madame Bailey, I like your way too.
---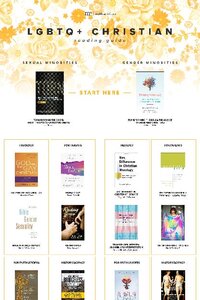 Get My LGBTQ+ Reading Guide!

Want to learn more but don't know where to start? This guide makes it easy.