"The world is an infinitely better place because you weren't normal."
The words brought tears to my eyes as I sat in the dark theatre watching The Imitation Game. The true story follows Alan Turing as he works to create the first computer and subsequently contribute to winning World War Two. Historians estimate that because of this man, two years were cut off of the war and over 14 million lives were saved.
Alan Turing was a bit…different. He had awful social skills. He was wicked smart. He was gay.
At the end of the film, years after the war is over, we find Alan on government mandated hormone therapy meant to "cure" him – chemical castration. As he trembles, he wonders out loud why he couldn't have been normal. Keira Knightly's character, Joan, looks him in the eyes and speaks the words that make me tear up. The world is an infinitely better place because he is here.
Turing changed the world.
Despite everything that he did, all of the people that he saved, his deepest wish was to be normal. To be accepted. To be a part of everyone else instead of having to stand on the outside, hiding behind a closet door, looking through the keyhole at the happy people who would turn on him in a moment's notice.
It's a feeling that many of us know, well.
We don't have to be part of the LGBTQ community to know this – it's universal. We all wish we could be normal, and yet none of us can put our fingers on what that normal is. If people knew us, actually knew who we are deep inside, they would turn on us.
And we do turn on each other. We become vitriolic and dig in our heels in, hissing and spitting at anyone who dares to question us. This happens no matter our convictions.
We claim that we are standing up for the truth, that we are putting our feet down and calling enough enough. The Bible is clear, we are only speaking God's heart. With love, of course. This happens no matter our convictions.
We are not affirming the innate worth of each other, we are instead condemning. We are not seeking to understand, only to speak.
This is not the way of Jesus.
We focus so much on calling out the sins in our brothers and sisters that we miss the people standing in front of us. We speak to that person's sin, and that person's sin, and that other person's sin. And it brings us great joy to love people so well. It's kinda fun, isn't it?
Somehow, we have taken it as our duty to call out sin in other people's lives, yet there isn't a charge to do this anywhere in scripture. The closest thing we have is when James writes "My dear brothers and sisters, if someone among you wanders away from the truth and is brought back, you can be sure that whoever brings the sinner back from wandering will save that person from death and bring about the forgiveness of many sins" (James 5:19-20). Yet, this isn't a calling out…it is a guiding back. It is coming along side someone and walking home with them.
When people are lost in the woods, we don't find them with binoculars from our helicopters and yell with our megaphones "Hey! You're lost! You're reading the map wrong! Turn around!" No. We get down into the woods with them, caring for their wounds, and staying by their sides.
And sometimes, when we get down into the woods, we realize that they weren't actually lost at all.
They were just a bit…different.
Instead of flying around in our helicopters, let's try to get down into the woods with people. Let's get to know them, hear their stories, understand what brought them to where they are. It's more work than judgmental observation. It takes more than flipping through the pages of the Bible and making lists of what is in and what is out. Yet Jesus reminds the Pharisees, and us, frequently that it's not about the lists, it's about the people.
As we get to know people for who they are, not for who we think they should be, we often become known for who we are too. When we are known for who we are, something amazing happens: the desire to be normal starts to fade. Instead, we begin to live more fully into the people that we were created to be…different.
---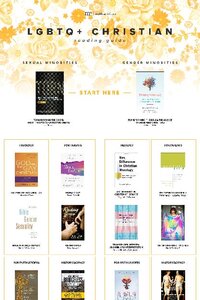 Get My LGBTQ+ Reading Guide!

Want to learn more but don't know where to start? This guide makes it easy.