I remember sitting down with my parents after I came out to them and having a conversation that is familiar to many LGBT Christians who come out to their parents. My mom looked at me with tears and said, "You are going to have to make some hard choices in your life. You cannot be in a relationship with Jesus and another man at the same time."
I was fifteen and while this was the first time this had been laid out in such simple terms, it was a message that I had been aware of since I was little. Gay people cannot be Christians. By the time my Mom told me, I had already spent years internalizing this shame message:
There is a part of me that is dirty that even Jesus cannot love. If I love Jesus, I cannot love a man. If I love a man, Jesus won't love me.
To hear my parents say it out loud only confirmed it. The choice was clear: singleness or hell.
I cannot fault my parents for this shaming. They were operating under the larger cultural understanding in the church that homosexuality equates to sinfulness. As faithful Christians, it was their responsibility to share that hard reality with me.
"Because of my orientation, my desire for intimacy is sinful."

At this point, at least where I lived in rural Iowa, there wasn't a separation between sexual orientation and practice. I could either be "same-sex attracted" and sinful or be straight and okay. Thus, I spent the next five years focusing on trying to change my orientation. This, of course, was unsuccessful despite pouring my entire faith and being into it.
When I moved away from home and started undergrad in northwest Arkansas, my new therapist taught me about separation, which was the university's official position. By making a distinction between sexual orientation and practice, one can affirm the permanence of orientation without advocating sexual activity.
It made sense to me — I am gay and I don't have a choice about that. I do have a choice in the way I live my life. This model of looking at homosexuality is now one of the main teachings in our churches. I operated under these ideas for a couple years, but the internal message was still the same: because of my sexuality, I am unworthy of intimate relationship.
Read the rest at OnFaith
---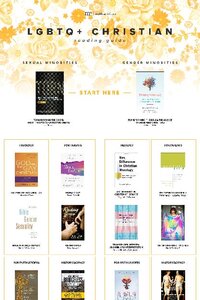 Get My LGBTQ+ Reading Guide!

Want to learn more but don't know where to start? This guide makes it easy.