Yesterday morning I sat in the vast space of a familiar cathedral. I wasn't entirely present. My mind was preoccupied, mostly centering around a guy I've been talking to.
I had just finished breakfast with a friend and as I processed the past week with her, I told her about my shower realization from that morning (I feel like all my best realizations happen in the shower): I've spent the past five days operating entirely out of fear.
Last week was a rough week. In combination with my grandfather unexpectedly passing away and the mind games I was playing over this guy, I sat in that cathedral exhausted. When it comes to relationship potential, I often convince myself of the worst possible things and then work myself into a tizzy over them. Because of this, Saturday morning, I was in tears, eating pizza and binge watching tv before I got the text: "I haven't been avoiding you, this week has just been insane."
Oh.
Pizza down. Computer closed. Shower. A couple eyerolls and laughter at my dramatic morning.
Fear. It clutches at my heart and dictates so many of my moves. Then, it instantly makes me second guess those moves. As I sat in church, I listened to the scripture reading and rolled my eyes again. Of course we're reading 1 Corinthians 13.
Love is patient. Love is kind.
The sermon was focused on fear. I was so caught up my thoughts that it took me until about halfway through the sermon to realize: Wait a second. This is my exact life right now. Fear and love and showers and pizza.
Our pastor began to sing over the room. A simple chant, repeated. Fall fearless into Love. Fall fearless into Love. Fall fearless into Love. I wonder what God is trying to tell me?
I knew it wasn't the kind of love that I was hoping to fall into. Not the kind of love that I've been focusing on the past couple weeks. Fall fearless into love. Perfect love casts out fear.
I've been so scared. I've been clutching and grasping and chasing. I've been brave and courageous and strong. I've been met with disappointment time and time again.
Fall fearless into love.
How? I had the sneaky suspicion that it probably meant letting go of the love I've been premeditated on. Which, wasn't what I wanted to hear. I took a breath in and focused my outward breaths on letting go. Releasing.
This love is so much bigger. It surrounds us. I remember my dad once saying "if God is light and God is love then love is light." God and Love are in light, the light that flows in and around and through us. We only have to fall into it, to awaken to its reality. To breathe, releasing the fear and letting light take its place.
One of my most cherished possessions is a book of common prayer from New Zealand. It was given to me by my priest and his wife at my last yoga practice in Arkansas, right before I moved to Seattle. The other day, I opened it to the blessing by Edward Carpenter that they read over me, curious. It had been over a year since I had read it. As I spoke the words out loud, the tears that welled up made it so I couldn't finish:
Let your mind be quiet, realising the beauty of the world.
and the immense, the boundless treasures that it holds in store.
All that you have within you, all that your heart desires,
all that your Nature so specially fits you for – that or the
counterpart of it waits embedded in the great Whole, for you.
It will surely come to you.
Yet equally surely not one moment before its appointed time
will it come. All your crying and fever and reaching out of
hands will make no difference.
Therefore do not begin that game at all.
Do not recklessly spill the waters of your mind
in this direction and in that,
lest you become like a spring lost and
dissipated int he desert.
But draw them together into a little compass, and hold them
still, so still;
And let them become clear, so clear – so limpid, so mirror-like;
at last the mountains and the sky shall glass themselves in
peaceful beauty,
and the antelope shall descend to drink and to gaze at her
reflected image, and the lion to quench his thirst,
and Love himself shall come and bend over and catch his
own likeness in you.
I read those words again yesterday. "All your crying and fever and reaching out of hands will make no difference. Therefore do not begin that game at all." Fall fearless into love.
I don't know if there's a point to this other than to wonder what it would be like to wake up to the reality of the Love that surrounds us. Maybe it's to try and share a glimpse of the hope that I feel when put that preoccupied game down for a moment and let go. But this is my prayer. For myself and for you:
Fall fearless into Love.
Fall fearless into Love.
Fall fearless into Love.
---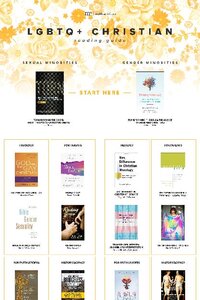 Get My LGBTQ+ Reading Guide!

Want to learn more but don't know where to start? This guide makes it easy.