Yesterday, I got an email from my mom. "How's your heart this Christmas season?"
I paused and wondered if I was going to be honest with her or if I'd make up some half truth "oh, it's okay, funny how Christmas doesn't feel like Christmas as an adult." I haven't written her back yet (sorry, mom). But the question has stuck with me over the past twenty four hours.
Walking to church, how's your heart? In the middle of eating tacos, how's your heart? While singing along with "Hark the Herald Angels Sing," how's your heart? At work, in my bubble bath after work, while watching a movie, the question kept pressing at me, asking me to check in.
I'm not sure if it's a mother's instinct or if my posts have generally been more depressing than normal, but leave it up to a mom to cut through the bs and get directly to the point. My heart is not well this Christmas season. It's broken, scattered around, and I seem to think that maybe I'll find the pieces in that pie over there. While grabbing lunch with a close friend the other day, she looked at my face and said "Matthias, you look so sad."
Yeah.
Yesterday was one of the rare days when my roommate and I were home at the same time for more than just a couple minutes. As we talked through our upcoming week and Christmas plans, we both agreed that our goal for the next few days is to get into a Christmas mood. Because it's not here. I wish it were as easy as throwing up a couple more strands of Christmas lights and maybe getting a tree. My roommate looked at me and said "oh, yes, the solution is certainly buying more things." Okay then.
What is it though? Why am I so aware of a mood that I should be in, a Christmasy mood, and where is that mood to be found? I've caught glimpses of it: seeing carolers at the farmer's market, and briefly at that one holiday party, but it's about as nonexistent as my Christmas tree. I feel disconnected as I walk by the elaborate displays at Macy's and hear the gasps of kids watching the trains go round — where has that magic gone?
As I'm writing, it's dark, the trees outside my window are wet and glittering from the streetlights. Almost like Christmas trees, but brown and bare, with a few twisted plastic bags as ornaments. These are the only trees I have this year and they seem appropriate. They aren't festive, but they're dressed up nonetheless, reflecting the light around them. They're here.
I'm here. That feels profound in a soft way. How's my heart? Hurting, but here. I could pretend to be festive and in a cheery Christmas mood, but that'd be like those plastic bags that only get more tangled when the wind blows. Instead of trying to manufacture different feelings, might I sit where I'm at and accept that this year may not feel like Christmas?
Like those trees, despite being bare and exposed, I can still reflect Light.
I can still practice those four Advent words: hope, peace, joy, and love. Each of those are concepts that are beyond emotion: each of them can exist simultaneously with heartbreak. They are practices that we can live into despite any state of being. Maybe that should be my goal for the next few days, to practice those while celebrating the birth of the One who is making all things new.
I'm here, with a hurt heart, and that's enough.
---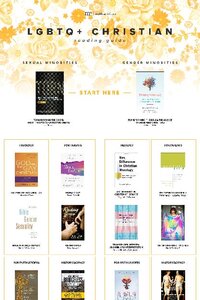 Get My LGBTQ+ Reading Guide!

Want to learn more but don't know where to start? This guide makes it easy.