How, as Christians, do we love people in the LGBTQ community?
As someone who is gay and also finds myself running in evangelical circles, I will occasionally be asked this question. How can I show love to my LGBTQ friend/neighbor/son/niece/_____? Many people that I run across, regardless of their views on the "issue" (or, especially because of their view), want to know how to show love without compromising convictions. Because, in the world that we live in, so many of us know and are close to LGBTQ people. This will only increase as more and more people become comfortable in being honest.
How do we create spaces, especially within our churches, where people feel safe sharing what often is their darkest secret? When so many treat homosexuality as the make-it-or-break-it litmus test of Christianity, the spaces that should be full of comfort and healing are instead places of fear and shame.
The Church should not be a place of fear and shame. God is not a God of fear and shame.
I am especially grateful to go to a church that has fostered safety. A church where I was known months before I mustered up the courage to tell the rest of the world. It wasn't even a big deal, I didn't have to "come out". I dream of a time where all churches can be like this.
We are not there yet. Not even close.
So where do we start?
Find warmth and listen. One of the biggest differentiators between someone who is loving and someone who is simply claiming love is warmth (which can also be called genuine love). This requires self-reflection. Asking, do I truly love this person? Are you viewing the LGBTQ individuals in your life as people or as projects? Are you seeing us as friends? Or as examples, "Look! I'm loving!" to feel good about yourself – "Yes, I know a gay person!". It's subtle, but major, and we can spot you from a mile away. If you truly want to be loving, then love. It requires more than inviting a person to coffee to discuss their views. It requires true investment. Friendship. Typically, we don't bring people that we want to be friends with into an immediate grilling on what they believe, with Bibles in hand, and "concern" on our faces. We hang out, we talk about life, get to know each other, and live life together. In friendships where we love, we don't jump in with the attitude of "I'm going to be friends with this person so that I can convince them to do x." Be genuine about this, because if your motivation is anything but, a person can tell within the first few minutes of a conversation. If you're not willing to invest, if you're not willing to truly be a friend and begin the journey of living life together, then you aren't in a place where you have an ability to confront. If you've never had an interaction with this person before, then it is not your place to confront. If you haven't talked to this person in many years (and didn't have a friendship to begin with), then it is not your place to confront. If you don't have anything but a genuine, true, loving relationship with this person, then it is not your place to confront.
"But it is my responsibility as a Christian to speak truth in love, especially to fellow believers!" Yes, it is, but that love part is a huge differentiator. To claim sitting down with someone cold turkey and speaking "hard truth" as love is vastly off base. To say that you love this person so much that you must tell them "truth", without any commitment on your end, so that they don't end up in hell is difficult for me to believe. You may tell yourself this is true, but I think the reality is that you want to convince them of your rightness.
It's hard, isn't it? Love isn't easy. If you're not willing to put the work in to love, truly love, then you're doing damage.
Justin Lee, executive director of the Gay Christian Network writes in a blog post that the way to speak truth is to see someone as a person first. "You get to know the person. You get to know their story intimately. You make the effort to see the world through their eyes—to know their past, their pain, and the reasoning behind their current decisions. Only then, once you've come to fully understand what they're going through, will you be in a position to make informed decisions about what they need, be it more support, more accountability, or whatever else." He goes on to say, "the biggest problem is that so many people try to cut corners here. They issue their response before taking the time to truly understand the other person. They misread the situation, and they end up failing to offer accountability where it's needed, or—far more often—failing to recognize the person's pain, and ending up piling on criticism when support and encouragement was needed instead." This requires listening. Ask more questions than you give answers, seek to understand. And whatever you do, don't bait and switch.
I'm going to be much more likely to listen to someone who I trust tell me that I'm going off track than someone who I don't even know. When it comes to the issue of LGBTQ views in the church, we hear voices almost every single day saying very similar things. You're not going to be the first person to confront. You won't be the last either. So instead of confronting, be one of the rare people who seek friendship.
Jump into it. Get messy. Get involved. As the old hymn says, "they'll know we are Christians by our love." So work on that love part.
Truth will flow from that.
And be warned. We're probably not going to trust you. There are too many people who fake friendship in order to get their views across. Walls and guards are constantly up. Be patient. If you're truly seeking to love, that love will prevail.
---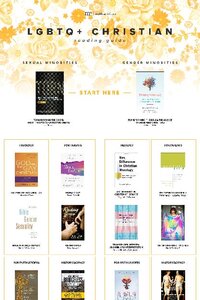 Get My LGBTQ+ Reading Guide!

Want to learn more but don't know where to start? This guide makes it easy.