"I think I'm going to tell my family over the holidays."
She was sitting across from me in a small coffee shop that overlooks Pike's Place Market. The sun glinted off Puget Sound as I looked at her hands, which were trembling slightly.
"Yesterday was the first day that I went out openly as a woman, and it felt really scary and really good," she continued. My mind went to everything that my friend is about to experience as she begins the transition from male to female. This is a brave soul. I caught her eyes, and within them was a mixture of freedom and fear — and resolve. "It's no longer a question of if I'm going to transition, it's a matter of when."
We parted ways with a hug. "I'm so proud of you, my friend," I told her. As I walked down the stairs to the busy streets of downtown Seattle, I found myself praying for her and her family. The holidays seem to be a time when these conversations happen — and they can take a toll, especially in Christian families. Often times, we don't have a clue how to respond when a friend or family member comes out to us, whether it be as transgender, lesbian, gay, queer, bisexual, or anything else that catches us off guard.
Here are five tips for how to respond in the best possible way when someone you know and love is courageous enough to come out to you:
---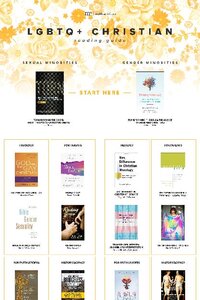 Get My LGBTQ+ Reading Guide!

Want to learn more but don't know where to start? This guide makes it easy.