There is no greater agony than bearing an untold story inside you.
-Maya Angelou
It is so hard to ask for help.
This afternoon, on my way home from work, my car broke down. Realizing that I couldn't accelerate, I pulled over to the side of the road, hit the hazard lights, and just sat there. I looked at my car. I can figure this out. Off. Back on. Drive. No acceleration. Sitting. Snap, something is wrong.
With visions of the dream I had two nights ago of my car running out of oil and subsequently catching on fire (I had dismissed this as just random until that moment), I carefully climbed over the seat and got out of the passenger door into the tall grass. Checking the oil, I realized it was incredibly low. Maybe the engine had seized. I got back into my car with thoughts racing….and I just sat there. Maybe I can make it into town. Maybe if I take it slow.
There seems to be a certain shame in asking for help. Even when you know you badly need it. Pride kicks in: I got this. I can do it all by myself! We build these illusions – I build these illusions. I am self-sufficient. I can handle anything thrown at me.
But, then, my car breaks down on the side of the road and I realize, that's not true.
One of the most beautiful things about this world is the fact that we are created to be in community. As humans, we are hard-wired to exist not as self-sufficient entities, but as relational beings. Sadly, I think that there are forces within us that attempt to keep us from that community. One of those things is pride.
As I pulled out my phone and called a friend, I found myself apologizing profusely. I pretended like I didn't actually need the help as badly as my panicked heart was telling me. "It's okay if you're busy, I can figure it out!" Pride. Even within my asking, I was cutting myself off from community.
A few minutes later, my friend showed up. As we began to figure the problem out, eventually getting the car back home and into the hands of a mechanic (where the same pride problem happened again, since he is a good friend), I started to become aware of what an incredible blessing these people are to me. Once I got past my own shame, I could see these people on a deeper level. We were building connections through the vulnerability that it took to admit that I needed help.
This happens in our physical world often – realizing that we need help and making the choice to either engage in community or sink further into selfishness (causing major damage). I think, though, that it may happen even more internally.
We live in closets.
This past weekend, an internet friend of mine came out in person for the first time – to her best friend. She described the sheer terror, but also the knowledge that it was time to stop hiding. In essence, she began to admit "I can't do this by myself". That heavy burden, the closet that she was living in, was becoming too much. Every single part of her was screaming for her to stay in, but she took the brave step to enter into community. To begin to share the load. And the relief that she described afterwards was one of pure liberation.
The closets we call our homes have a tendency to shrink.
When we choose to engage in community – regardless of if it is in our physical world or our internal world – we start a process of discovering what it means to be human. We begin admitting that regardless of how hard we try, we can't do this life thing alone, and we are forced to bring other people into the deepest parts of ourselves. We need other people. I think, in those moments, we see glimpses of Jesus.
What closets are you living in?
It's time to come out.
---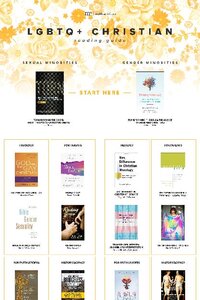 Get My LGBTQ+ Reading Guide!

Want to learn more but don't know where to start? This guide makes it easy.