"I wonder where you got that idea from? I mean, the idea that it's feeble to change your mind once it's made up. That's a wrong idea, you know. Make up your mind about things, by all means – but if something happens to show that you are wrong, then it is feeble not to change your mind, Elizabeth. Only the strongest people have the pluck to change their minds, and say so, if they see they have been wrong in their ideas."
― Enid Blyton, The Naughtiest Girl in the School
A book that has been instrumental in my life is The Sacredness of Questioning Everything by David Dark. It took me over a year to read, partly because I'm a horribly lazy reader who has a bad habit of starting many books and never finishing them, and partly because it is dense. I would force my sister to listen to me read out loud just so that we could pause after almost every paragraph and verbally digest what the author was saying (we were vacationing together, along with the rest of my family, and had many hours in the car, Mikayla was always thrilled…)
One of the main ideas of the book is that a willingness to question should be a core tenant of our faith. Dark writes: "I believe deliverance begins with questions. It begins with people who love questions, people who live with questions and by questions, people who feel a deep joy when good questions are asked. When we meet these people – some living, some through history and art – things begin to change. Something is let loose. When we're exposed to the liveliness of holding everything up to the light of good questions – what I call 'sacred questioning' – we discover that redemption is creeping into the way we think, believe, and see the world. This re-deeming (re-valuing) of what we've made of our lives, a redemption that perhaps begins with the insertion of a question mark beside whatever feels final and absolute and beyond questioning, gives our souls a bit of elbow room, a space in which to breathe and imagine again, as if for the first time." Dark sees questions, good questions, as an inherent part of living in light of redemption. It's a way of participating in the kingdom work of Christ.
I think that one of the first steps in asking good questions is to consider the idea that we may be wrong. That our beliefs, the things that we hold dear to us, may not be correct. Our lenses may be clouded. We must at least entertain the idea that if we step into a question, we may have to change our minds.
This is a really scary thing.
To stand at the front of a question knowing that what you find may force you outside of your comfort zone is terrifying. Often times, we choose not to take these journeys because of the fear that is associated with them. What if what I know isn't right?
When we do take these steps, opening our clenched fists and truly engaging, we start seeing glimmers of the world that is to come. Often times, these journeys don't have an end. That first step is the tangible one, the ones after that are less discernible, and the end of the path never seems to come. The certainty that we thought we had – that we thought could be grasped again – slips through our fingers. Slowly, we begin to see that absolutes may not be the goal and instead we find ourselves leaning more and more on faith.
That is when problems can begin.
When we go on these journeys, often times we expect everyone else to evolve with us. We get caught up in our own experience and when that experience is challenged, our first response is to lash out. Anger, hurt, fear. Why don't you get it?! Can't you see I've been wrestling with this? How dare you question me. We look up from our paths and see that others haven't joined us. Those questions that we thought we had conquered are thrown right back at us and now it feels like battle lines are being drawn. We begin to react.
I begin to react.
But, I'm not going to change your mind.
It's a simple truth, but it's one that has helped me so much in the past months. I'm not going to change your mind. It's permission to engage with these questions without tying my entire self-worth to your response. Realizing that the only thing I can do is relate my journey, my thoughts, ideas, challenges, and then actually listen when you do the same, is liberating. The mind changing is out of my control, and honestly, inconsequential.
We are all on different paths, and when I reflect on my path, I realize that the people who have helped me the most are not the ones who insist that I must believe like they do. The ones who play a part in my redemption are the ones who facilitate without making me feel like I must walk through a cookie cutter.
May we question. May we engage. And may we not hold our self-worth in the minds of others.
---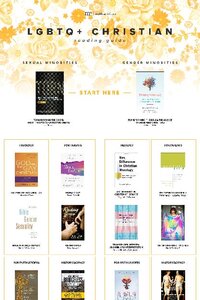 Get My LGBTQ+ Reading Guide!

Want to learn more but don't know where to start? This guide makes it easy.