I could fry an egg on my legs.
Heat is radiating from the bright red sunburn that comes after spending a day on a Southern California beach without any form of protection. I keep touching them, first my right leg, then my left leg, to feel the heat. The pain my hands sense from the temperature they're giving off is almost as bad as the searing "ouch!" my finger brushes produce. This is a bad one. Soon, I'll start to peel. Bit by bit, pieces of the dead skin will fall off, probably making my bed the next morning look like Santa's elves got a bit ambitious with the snow machines.
The dead, the old, will be giving way to the fresh and new. This has been a theme over the past week. I've spent it with a small group of people at a two day event called "Keep Going" hosted by Rob Bell, his wife Kristen, and several of their friends. The sense of fullness that I've left the event with is evident in the giant smile I keep seeing as I scroll through the pictures on my phone. It's on my face right now.
Who/What Am I Giving My Best?
"Everything that exists is made up of a relationship between energy fields." Rob walked us through some of research around sub-atomic particles. "At our very core, literally, we are arrangements of energy. You know when you get done with a conversation and say 'that was really draining'? Maybe it's because it was. Every interaction we have is an exchange of energy." Rob's words are consistent with work that I've been doing in some of my classes. There is so much more to human exchanges than simply words and actions. There are flows of energy all around. It sounds like new age blabber, but it's scientifically true. Energy is what drives the world.
Who or what are we giving our energy to? We only have a finite amount that we can exchange. I think we all know this intuitively, as Rob pointed out, we know what it is like to expend or accept energy. Some people are life-giving, some are life-draining, and it's not just an emotional thing. When we spend hours on facebook, or binge watching that new Netflix season (!!), we are spending energy. An awareness, a questioning around this, can be vitally important to live the lives that we want to live. Who or what am I spending my energy on? Am I being responsible with it?
Wonder Abounds
As I waited for my flight from Santa Ana, the sun that I had enjoyed on the beach became hidden by the clouds. I didn't notice it happen as I sipped my green tea lemonade and tried to figure out how to cross my legs without having to endure shooting pain (it's not possible). After celebrating that the seat next to me was empty, I settled in for the flight and decided to spend the two hours trying to process the past several days. I shut my eyes and breathed as the adrenaline of take-off hit my body.
I get a bit anxious about take offs and landings. I think it's because someone once told me those few minutes — at the beginning and ending of the journey — are the most probable for accidents. I clutch the armrest too firmly as I practice that annoying kind of breathing they tell you to do in yoga. I kind of like the European tradition of breaking into applause when flights land. "Yay, Pilot, you did it! And we survived!"
From behind my eyelids, I noticed a sudden shift in light. Everything turned orange and there was a collective gasp from the entire plane. We had broken the clouds and the most brilliant sunset was greeting us. The man sitting in the window seat had a huge smile on his face as he kept softly repeating "wow." It was a collective experience of awe.
The word "wonder" was used often over the two days of the event. Rob reminded us, again and again, that fostering and keeping a sense of wonder is the only way to keep going in difficult times and in difficult work. Brené Brown talks about this too, only she uses the language of gratitude, which I think is a very similar thing. Wonder and gratitude are ways of combating shame and are ways of staying alive. Maybe not alive physically, but spiritually and mentally — wonder is a requirement for joy. When we tune into the world around us, looking for the wonder-full, and letting gratitude fill our souls, we experience what it is to be alive. It is transcendent.
Keep Going
"You will be criticized for who you are and who you are not, so you might as well be who you are." Kristen, Rob's wife, spent part of our second morning talking about what she has learned in the past few years of being married to one of the most controversial spiritual leaders of our time. Her face radiated kindness as she sat next to her husband and softly spoke of the pain she has experienced and the lessons that have come. "Why not be yourself?" The criticizing voices are going to be there no matter what: live into your calling, it is there for a reason. Keep going.
Rob invited his friend Carlton Cuse, the guy behind that little show Lost, to speak into this as well. As the group asked questions, one person raised his hand "I have dreams inside of me, but I'm wondering how much of your success do you feel like was based on the work that you did and how much was luck?" Carlton laughed, "It's all work. Luck has almost nothing to do with it." These words were repeated in several forms throughout the event — you have to be willing to put in the hours if you want your dreams to come to fruition. There are no shortcuts.
Sitting on the on the beach feeling the sun light up my skin, I was wrapped up in conversation with my friend who invited me. "How much of that do you think is true?" My skepticism was getting the better of me, "Surely there is some luck involved, meeting the right people, having the right opportunities." My friend looked at me, "I think he's right. It's easy to look at those people who are where you want to be and only see them now. They aren't kidding when they said they had to work." Another confirmation. As one of my professors reminds us again and again, "you have to bleed for your dreams every day."
Every day.
Not a few times a month. Not once or twice a week. Every. Single. Day. In order to keep going — to keep moving forward — we have to invest. It's a death of sorts, a death to the things that seek to distract. A death that leads to new life. We have to foster wonder and gratitude. We have to be aware of who or what we are giving our energy and be intentional with where we are placing it.
Otherwise, we'll wake up on the couch in three years, still watching Netflix, and think once again "wouldn't it be cool?!"
I'm off to fry an egg.
---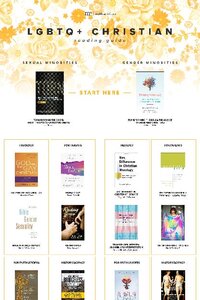 Get My LGBTQ+ Reading Guide!

Want to learn more but don't know where to start? This guide makes it easy.