It is a cool, rainy day here in Northwest Arkansas. Driving home through the Ozarks with the fog tucked between the hills makes me think of summer in Alaska where it's like this frequently. I love rainy days. The way lamps reflect off the streets. The soft, grey diffusion of light. Introspection seems to be wrapped up in every tiny drop of water.
Plop. Plop. Plop.
That introspection is running rampant these past weeks as I have begun to say goodbye to this place I call home. Every conversation, laugh, and glance seems to have a certain weight behind it: I don't know when I will get to do this with you again.
My Spotify stopped working. In the silence of the car, the words "whoever wants to find life must lose it" filled the space in my head. I wondered what they meant. Whoever wants to find life must lose it.
These are words of Jesus. As he speaks to his disciples about what it means to follow him, he describes a transformation that happens when we open our clenched fists. There is something beautiful in being willing to let go, to open up ourselves up to the Triune. When we do that, we find life. Does this apply to the physical too?
To let go of something we love is a task that sometimes seems unbearable. To say goodbye to Home and step into the unknown is a leap, regardless of how big or small Unknown may seem. This place, my home, is an entire life and I'm watching it leave as my departure date to Seattle looms closer. I am losing it. But what am I going to find?
And that is the terrifying thing. Because, the feelings attached to losing something are fear, trepidation, and grief. When my friend asked me what I was planning to do my first week in Seattle, I responded with "curl up in a ball and cry." And I wasn't kidding. I am so wrapped up in losing that I don't even want to know what I am going to find, because, is it really going to be better?
And we sit in these places. Afraid to let go. Afraid to walk forward into light and trust because we know what is here but not what is there. The prospect of finding life somewhere else is so difficult to imagine. We grip tightly to our places, our friends, even our secrets that tear us up.
Here is comfortable, even if it is not where we want to be. And there, that place beyond, is a cloud that reassuring words won't seem to penetrate. Why walk towards there when "I'm doing just fine, thank you very much." We so quickly set aside that deep ache for progress and replace it with rationalization based upon the very fear we want to conquer.
Yet, as we crawl towards there and slowly open our squeezed eyes, little glimmers of light start to seep in. We see that we are wrapped in love, in grace, in peace, kindness, and gentleness. These exist in light. This is what we find.
Life.
It may not be the comfort we have here, but within those places of vulnerability we see comfort for what it truly is: the thing holding us back.
May we take the little steps, one at a time, to walk towards there. May we find
Life.
---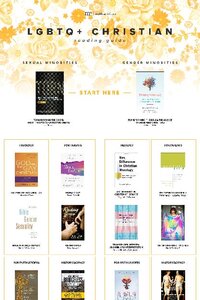 Get My LGBTQ+ Reading Guide!

Want to learn more but don't know where to start? This guide makes it easy.