In the last year or two, I have been deeply convicted by God that my angry-young-prophet days are over, to be replaced by a helpful, Bible-teaching spiritual father.
-Mark Driscoll
"Are you going to be coming to church with us on Sunday?" I was sitting in a lounge on the 24th floor staring out the window at the view of downtown Seattle at night. The glimmering lights and dizzying height kept on distracting me from the game of pool I was attempting to play. My friends were looking at me, "of course, where do y'all go to church?" I was excited to see where my friends had decided to call their spiritual home.
"Mars Hill."
A laugh escaped involuntarily, more bubbling up at the thought. My friends were obviously kidding, they of all people knew my feelings about Mark Driscoll and his mega-church. However, my laugh was cut short as I looked at them and realized they were serious. This was no joke. I had just agreed to set foot in a Mars Hill campus.
I had to hold back my judgmental thoughts as we approached the building. In my mind, Mark Driscoll represented everything wrong with the church today. My attitude was not good. Chauvinists, I automatically thought as the male greeters shook my hand. Catching myself, I remembered the intention I had set – to approach the church with a sense of wonder and newness. Not letting previous opinions, ideas, or pain color what I was about to experience. I can't say I did a super good job at it, but as I worked my way through worship and began to listen to Pastor Driscoll's sermon, I was struck with something I didn't expect. He spoke with a humility and humbleness that caught me off guard. His voice was different from the last time I had heard him – there was something new. Near the end of his sermon, he apologized to people that he may have hurt in the past. To my fault, I had a hard time believing him.
Since my visit, scandal has surfaced within Mars Hill church as well as in Driscoll's professional life. I smugly watched this thinking "Hah, we all knew something like this was happening. Now it's finally coming out and Driscoll is getting what he deserves." The grace that I so often proclaim was not found. As news of an apology from Driscoll made its way around facebook, I rolled my eyes. What was he going to say this time?
What I read was vulnerable. And as I read, my heart softened. I was convicted. The words were similar to what I had heard him speak to his congregation several weeks before. Words of sincerity and apology, with wholeheartedness. I believed him. He was a different person than the Driscoll I had created in my head. He appears to be a man waking up to realize what he created is not good, and who is promising a new approach.
I've been infatuated with Dr. Brené Brown since I discovered her several months ago. She has spent a good portion of her life researching shame and vulnerability. I was introduced to her through her TED talk that went viral a few years ago (I'm super late on the bandwagon) and I've been gobbling up everything I can find by her ever since. In an interview, Dr. Brown talks about how vulnerability is the key to disarming the power of shame – the most pervasive human emotion. Through her research, Brown has found that vulnerability is the root for creativity, for empathy, and for change. She describes how our culture is one that sees vulnerability as weakness, as something to avoid, because we have to look perfect at all times. As I listened to her, I began to think that her descriptions of overall culture could also easily apply to the church. It is a common thing to hear how our churches lack creativity, how they lack empathy, how they don't actually foster true change in our lives. They are places where being vulnerable is not encouraged, where we must put up an appearance of being the 'perfect Christian.' To ponder these connections, I went out to walk my dog. And as my feet fell on the pavement, something clicked.
What I was wishing for and praying for moments before was shoved in my face – vulnerability is being introduced into the church from my least-expected source. The man who I saw as a poster boy to this mask-making Christianity is beginning to take off his mask. It is a beautiful thing. I came close to stopping in my tracks. My self-righteous wall that I had built against Driscoll has prevented me from seeing that God is working within Mars Hill too.
I hope that Driscoll's vulnerability spreads to other people. May our churches increasingly become places where we can bring down the walls we have spent our lives building. Where we can wake up, look around, and see grace. May we offer that grace, withholding skepticism, and may we not forget that God is working even in the places we question.
-Matthias
---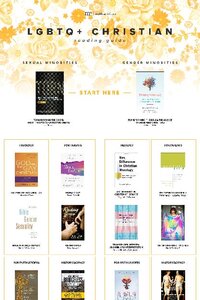 Get My LGBTQ+ Reading Guide!

Want to learn more but don't know where to start? This guide makes it easy.