It matters how we do life in this world. This world. Not the next world. Not the world that we are waiting for. This world. 
The more I pay attention to the lives of people who we are different than me, the more I'm realizing how poorly I'm doing. This is not meant to be shaming. I think many of us are like this. We are often so focused on ourselves, our own issues, our own theology, our own doctrine, that we're blinded.
We need to specifically affirm that black lives matter. Black. Lives. Matter.
As white Christians, we aren't doing this. Yesterday, a friend posted a critique of the white church, and the entire comment section was filled with white people being defensive about all the good things they're doing. Now is not the time for that. It's not the time to say "but, I went to that rally last month!" "But, I tweeted about it!" Yes, great. Keep doing that, but using that as a means of defensiveness is not pretty. We still aren't affirming, as a whole, that Black Lives Matter.
I'm not repeating anything new here. I don't have new words. I can't claim understanding. I don't know what I'm doing. I'm still waking up to the reality of racism and my implicit participation. But, so what? So what that I have the privilege to take my time learning about this? I still have to act. We still have to act. My friends of color knew from a very early age the reality of this racism. This is our problem, white people. This is our problem.
This past summer I was asked "when was the first time you became aware of yourself as a racial being?" I was in a class. As people went around answering, a pattern emerged. White people: "when I took a class in college," "when Ferguson happened," — 20s, 30s, sometimes even in their 40s. People of color: "when I was 2," "when I was a toddler," "I can't remember not being aware."
As white people, we are taught that whiteness is default. Not usually through explicit words. It's built deeply into our culture, our language. We aren't even aware that our whiteness is a race. We are the "normal" ones, "people of color" vs. just "people." "Black theology" vs. "theology."
And then we're told that racism is over. In the past. I sincerely believed that racism ended in the 50s and 60s with Rosa Parks and MLK. That's what I was taught. We claim "we don't see color, we're all part of the human race" — but that's not true. We see color and then do everything we can to ignore it. This happened the other night at my restaurant. "That lady in the corner with the…uh…flowered shirt" — the only black woman in the entire place. "Colorblindness" — a tool of white supremacy. A tool for us white people to feel good about ourselves while continuing on our racist paths.
This morning, I read a great post about tangible things that us white people can do in order to start combating the racism that we are continually surrounded by. "Another Day, Another Hashtag. White People, You Gotta Get to Work NOW." Read it. Start doing.
It is our responsibility to educate ourselves. Here's another website with a huge list of resources: 70+ Race Resources for White People. But we can't just get stuck in the education part. We have to act too. We have to do more than tweet and then wave those tweets in the faces of our friends of color yelling "BUT LOOK AT ME HELPING YOU!"
This is on us. It matters how we do life in this world. It matters how we do Christianity in this world. As white people, it is our job to do something about the mess that we've created. ("But, I didn't create it!" Maybe you didn't personally start it, but you're still actively creating it every day you move in this world as a white person. Not shaming, just reality. Move on from defensiveness and get to work.)
Black lives matter. Let's live like they actually do. It matters.
---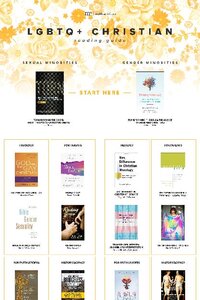 Get My LGBTQ+ Reading Guide!

Want to learn more but don't know where to start? This guide makes it easy.