Today, October 11, is National Coming Out Day. It's been an amazing 10 months since I wrote Of Lunchboxes and Truth – the conversations that have resulted and people that I have come into contact with since coming out I will cherish for the remainder of my life. Thank you, friends, for being part of the community that has surrounded me. Please, never stop the conversation.
Here is a list of resources for that conversation. Whether you are straight and just trying to figure out where you stand, or if you are sitting behind closed doors yearning for the day when you can speak honestly, may you find helpful words here. These will be voices from many different sides of the conversation. Blog posts, sermons, books, and even music that I have found helpful along my journey.
Finally, before we dive in, starting a week from Tuesday (October 21), I'm relaunching my Saturday Stories series with a new name and day: Tuesday Tales (yep, keeping the cheese). Some of the guests have already sent me their drafts and I have been floored. You won't want to miss these stories.
Let's do this!
Blogs & Posts:
"Ask A Gay Christian (Response)" – Justin Lee (on Rachel Held Evans' blog)
"Ask A (Celibate) Gay Christian (Response)" – Julie Rodgers (on Rachel Held Evans' blog)
"Ask A Transgender Christian (Response)" – Lisa Salazar (on Rachel Held Evans' blog) [and don't miss her story "Belonging" on my blog!]
"LGBT Theology: What Does the Bible Say" – Vicky Beeching (this is a great roundup of resources!)
"Crumbs from the Communion Table" – Justin Lee's personal blog. Executive director of the Gay Christian Network (he just posted some great links to posts on coming out today!)
"The Registered Runaway" – Ben Moberg's personal blog on living as a gay Christian
"Redemption Pictures" – Micah J. Murray's personal blog. It's not specifically on sexuality, but is full of beautiful posts from a straight perspective.
"Writing in the Dust" – Wesley Hill's personal blog. Great perspectives from a Side B (nonaffirming) gay Christian.
"Experimential Theology" – Richard Beck's personal blog. Psychology professor at Abilene Christian University. Everything that I've read on this blog is great, but be sure to check out his series on Sexuality and the Christian Body.
Books:
Bible, Gender, Sexuality: Reframing the Church's Debate on Same-Sex Relationships by James V. Brownson. This is the single best book that I've read on the topic.
Torn: Rescuing the Gospel from the Gays-vs.-Christians Debate by Justin Lee. Justin writes a beautiful memoir of growing up gay in the evangelical church and gives practical advice for people on ALL sides of the issue. If you read one book on this list, make it this one.
Washed and Waiting: Reflections on Christian Faithfulness and Homosexuality by Wesley Hill. A memoir similar to Torn, but more personal and from a Side B (nonaffirming) perspective. If you're wanting to understand what it is like to be gay in a Christian world, this book is a great resource.
God and the Gay Christian by Matthew Vines. This book is an accessible introduction to LGBTQ affirming theology. Vines does a great job with the basics. (If you're wanting something with more substance, read Bible, Gender, Sexuality.)
Generous Spaciousness: Responding to Gay Christians in the Church by Wendy VanderWall-Gritter. This book is next on my reading list. Regardless of where you fall, this book presents a way to exist truly as the body of Christ.
Videos, Sermons, Podcasts, and Organizations:
"The Gay Debate: The Bible and Homosexuality" – Matthew Vines. This viral video is what plunged Matthew into the spotlight. I don't find his arguments in this video particularly persuasive, however, it does lay some good groundwork.
"Why I Changed my Mind on Homosexuality" – Danny Cortez. This Southern Baptist pastor addresses his church on his change of heart.

"Seventh-Gay Adventists" – A documentary following several Seventh Day Adventists who also identify as gay. This is a beautiful film.
"Room for Me?" – A short film of stories from LGBTQ christians in the Reformed Church of America. (Also, be sure to read the producer Jeremy Bork's story on my blog!)
GCN Radio – A (sort of) weekly podcast from The Gay Christian Network. (They haven't had an episode in almost a year though, but check out any of the previous ones. I spent much of my summer last year listening through all of these.)
The Gay Christian Network – Affirming or Non-Affirming, this is the premier non-profit working towards bridge building in the church. (Quick plug, the annual GCN conference is happening January 8-11 in Portland. Y'all should come. I'll be there! Along with almost everyone else featured in this blog!)
Music:
"Letting Go" by Jennifer Knapp – This album is one of my favorites and Jennifer's first album since coming out. (She also just released a new book, and her new album comes out Tuesday!)
Steve Grand – This is sort of a guilty pleasure. But, gosh, is it nice to have love songs that are actually relatable.
---
That's all for now. I'm sure I'm going to keep remembering other things I want to include for weeks, so this may turn into a full resources section on the site. But for now, here you go.
The part you all have been waiting for. The GIVEAWAY! Like I said above, out of all the books listed above, if you had to choose one to read it would be Torn. So, in order to help you out, I have a copy of Justin Lee's "Torn" that I'm giving away!! You can get up to FOUR entries! Commenting on this post and following me on twitter count for 1 entry each. If you tweet about the giveaway, that counts for 2 (yes two!) additional entries! Go go go! (You MUST use the little giveaway box thing right below, otherwise your entry won't be counted. It only needs your name and email address.) The giveaway ends this Wednesday!
---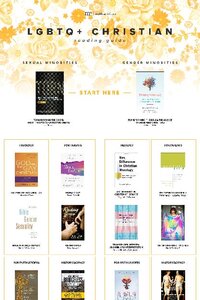 Get My LGBTQ+ Reading Guide!

Want to learn more but don't know where to start? This guide makes it easy.