Homosexuality is not a mere "issue." Singleness is not a mere "issue." Marriage is not a mere "issue." As any mother of a gay child or survivor of sexual abuse will tell you, when we talk about sexuality, we are talking about real people, real bodies, real families, real lives. To forget this is to subject our fellow human beings, created in the image of God, to a sort of theological objectification that robs them of their humanity and renders their stories, their experience, their backgrounds, their spirituality, their relationships, their struggles, and their joys down into something I can either "affirm" or "condemn," something that is either "pure" or "defiled."
-Rachel Held Evans
The summer before my second-grade year, my mom took my sister Mikayla and me shopping for school supplies. Mikayla was getting ready for kindergarten and I was transferring schools. We had moved earlier that summer to a town about twenty minutes away and I was excited for the new. My seven year old self ran around the Target looking for the items on my list: pencils, folders, notebooks, and, most importantly, a new lunchbox. I had to find the perfect one. Not only would it be the container that held my precious food for the year, it had to be perfect. I looked past the boring single color boxes, pushed away the Hot Wheels options, briefly entertained the Teenage Mutant Ninja Turtle box, and that's when I saw it.
A dolphin.
I loved dolphins. So much so that my mother and I had just finished painting a huge mural on my entire bedroom wall of an ocean full of dolphins, starfish, rainbowfish, and sharks. This was it. This was the perfect lunchbox. Plus, it was full of my favorite colors.
I grabbed it and ran over to my mom to show it to her. She looked at the Lisa Frank box full of swirling purples, pinks, and blues and looked back at my excited face. "Are you sure honey?" She questioned apprehensively. I nodded enthusiastically, I could care less that this lunchbox was supposed to be for a girl. It had dolphins on it and I loved purple, pink, and blue. I assured my mother that this was my choice. She smiled and handed it back to me, "well, you better go put it in the cart."
On the first day of school, I was so excited about my new lunchbox that I could hardly contain myself. My mom packed my favorite lunch – peanut butter & jelly on homemade bread and a side of carrot sticks (I was convinced that if I ate enough carrots, my eyes would become like Superman's x-ray vision. It has yet to happen, but the hope endures). Throughout my morning of class, I bounced in my chair expectantly and when lunchtime came around, I was the first person at my cubby to grab my backpack. I found my friends in the lunchroom, who were sitting with people I had never met before, located a place to sit, and pulled my lunchbox out of my backpack. I had a huge smile on my seven year old face as I showed it off. "Look at the dolphins!"
That's when things changed.
Instead of sharing in my excitement and spending the period talking about awesome dolphins, my friends looked at the box and immediately said "that's a girl's lunch box." They proceeded to make fun of me and my new lunchbox for the remainder of the meal. I was crushed.
I never wanted to use my new lunchbox again.
I'd love to say that this was an isolated event in my life. One of those moments that is remembered because of strong emotions, but nothing else. However, situations like this were frequent growing up. The first time someone called me a girl was when I was in first grade – and it was from my best friend at the time. The accusations continued through life until natural processes hit and I slowly observed a switch in language. Instead of being called effeminate, I started being called homosexual, gay, and queer. It wrecked me. I would be scared to go out in groups with my peers. The bullying got so bad that I begged my parents to let me drop out of my Boy Scout troop – something that I loved. I felt like an outsider.
But, the part that scared me the most was that their accusations were true.
I learned very early on that being gay was a horrible thing. My peers made sure that I knew it. The culture that surrounded me made sure that I knew it. It wasn't a secret that God hated homosexuality, I could see it in the faces of the people around me when a gay couple would be on tv, I could hear it in their conversation, and I could feel the disgust in their scoffs. So, when I realized at age eleven that I wasn't aroused by the same stimuli as the other guys around me, I was petrified and ashamed. I begged God, no, how could this be happening to me? I'm a Christian, you say you love me, so why this? And as the years passed by, despite my desperate efforts to evade what I felt, I slowly realized that I was dealing with something that I myself hated. However, I was going to keep it a secret. No one could know.
My parents found out when I was fifteen. Four years of shame and guilt had passed. Almost every time I prayed, I would cry out to my Father asking him to change me. When my mom found a well hidden book full of shirtless guys in my bedroom, I was faced with a choice. Her direct question was a crossroads: I could claim that I had the book because I was interested in getting fit, after all, that was its subject, and my mother's concern could be resolved. I could continue hiding. Or, I could tell the truth. "I like the pictures."
It's time to tell the truth.
I'm gay.
I like guys. I have never once been sexually attracted to a woman. Ever. On the Kinsey Scale, I am a full 6, exclusively homosexual.
And this is a part of my life journey. The past few years have been full of growth: counseling that has helped me come to terms with both myself and the fact that my sexual attraction isn't something that can be easily changed, or even changed at all. Learning that I cannot blame myself, my parents, my surroundings, or even my God. Walls that I built to protect myself against pain have been torn down and I have grown in relationship with some incredible people who I formerly would have held at arms length. I have come out of a place of guilt and shame and discovered a greater sense of purpose for my life. Through all of my journey my Father has been whispering in my ear "I love you" and I know that He does. Even when I don't understand, I can look through the past 22 years of my life and see evidence of Abba God's love, care, protection, and guidance. In addition, I have parents and family who, while we may not see eye to eye, have always affirmed their deep devotion and love for me. I am truly blessed.
A special note to the people reading this who are working through their own sexuality. To those who are trembling in the darkness terrified of secrets within. Please deeply know how loved you are. Jesus died for you and he embraces you warmly, as he does with everyone. You are not excluded from the triune love.
Grace and peace,
-Matthias
—–
Please feel free to join in the conversation in the comments below. I will be actively engaging as well as moderating. Be kind, compassionate, thoughtful, and intentional with your words.
If you want some extra reading, this post from Justin Lee's blog "Crumbs from the Communion Table" articulates many of the thought processes that were behind my wrestling with the idea of publicly coming out. It has not been an easy decision: I spent the past year meeting with family, friends, and spiritual advisors. This post was born out of prayer, tears, frustration, fear, late nights, hope, uncontrollable shaking, and many, many conversations. You're reading revision number twenty-eight.
---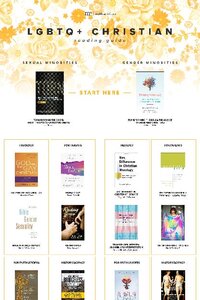 Get My LGBTQ+ Reading Guide!

Want to learn more but don't know where to start? This guide makes it easy.