If there is no struggle, there is no progress.
Frederick Douglass
On Saturday morning, my yoga practice got a bit intense. Morning yoga is always difficult for me (I typically practice in the evenings). I think it has something to do with my muscles still wanting to be in bed. Thus, stretches are never as deep, poses are never as meticulous, and I usually find myself feeling sloppy as I fall over for the fifth time. Yet, this morning as the familiar breath began to flow, our instructor explained to us that someone would be coming around the room throughout the practice to give us little "assists." I sat in child's pose for a time aware of the movement happening around me as the instructor moved from person to person. Anticipation. Finally, her hands settled on my back and began to push my spine downwards and forwards. Things began to happen.
I've been contemplating change this past week. There seems to be a certain tension wrapped up within our responses. I know for me, my natural response is to start planning as an effort to stave off worry. If I can get every detail worked out, if I can bring myself to a point of where everything feels like it will be okay, I can handle it. The change become bearable, I can rest in the confidence of my plan, and I can continue on. I think there is a certain value in this – planning through change can make it less stressful and can often save from poor decisions. However, as I exist within my automatic state of planning, I also find myself easily falling into a fear of unknown. Because I cannot plan everything. I get to a point of where my planning has to stop because I just don't know. And that is when I get scared.
As change occurs, a certain story will pop into my head every once in awhile. A wealthy farmer was once having an incredible year. His crops were producing in record numbers and he was watching his wealth grow. Change was happening, and it was good. As he filled his barns, he realized he would not have enough room to store his new found riches. Thus, he tore down his existing barns and built new, bigger ones. He planned. And as he planned, he found security. His confidence was boosted and he was certain that he would be wealthy enough to eat, drink, and be merry for the remainder of his life. Yet, as he began to rest in his plan, God appeared to him and said "You foolish one, tonight your soul is required of you. The things which you have prepared—whose will they be?" The man passed away. This story couples in my mind with the words of Jesus, "Therefore I tell you, don't be anxious for your life: what you will eat, or what you will drink; nor yet for your body, what you will wear. Isn't life more than food, and the body more than clothing? See the birds of the sky, that they don't sow, neither do they reap, nor gather into barns. Your heavenly Father feeds them. Aren't you of much more value than they?"
These words give me pause. I find value in planning and I would argue that it is a necessary thing. However, there is value in simply resting within change, being aware that it is an unavoidable part of life. I do wonder though, am I letting my greed for a certain future bring me to the point of where I am attempting to remove any need for trust? Does this desire to answer the question "what are you doing?" with a tangible, satisfactory plan actually bring me to an unintended negative space? A space where I decide to stay with what's safe instead of facing change with trusting arms?
As my yoga instructor's experienced hands brought pressure into my pose, I began to feel pain. My muscles were pushed into a deeper stretch and all I could do was let them. Change hurts. Progress is scary. I can plan, I can anticipate my instructor's presence, but I cannot prepare for what the change actually brings. I can only sit within the stretching and let it be. When my instructor's hands left my body, the deeper stretch that I achieved enhanced the rest of my practice and the remainder of my day. It brought health to me that I otherwise wouldn't have seen. The pain ended up being good.
May we approach change without anxiety, trusting.
---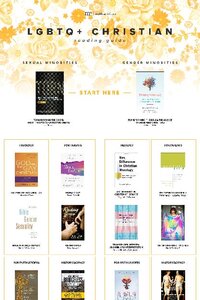 Get My LGBTQ+ Reading Guide!

Want to learn more but don't know where to start? This guide makes it easy.