"Only the body saves the soul. It sounds rather shocking put like that, but the point is that the soul (whatever exactly that is) left to itself, the inner life or whatever you want to call it, is not capable of transforming itself. It needs the gifts that only the external life can deliver: the actual events of God's action in history, heard by physical ears, the actual material fact of the meeting of believers where bread and wine are shared, the actual wonderful, disagreeable, impossible, unpredictable human beings we encounter daily, in and out of church. Only in this setting do we become holy — in a way unique to each of us."
-Rowan Williams, Silence and Honey Cakes, 94-95
My professor read this in my Theology class yesterday. Only the body saves the soul. Only the Body saves the soul. A beautiful play on words.
Physicality. Materiality. The world that surrounds us. The reality of the bodies where we spend our time, the rocks and the trees and the sky and the wind. In this we exist. The earthiness of our lives.
So often we try to escape this within our spirituality.
But, what happens when we bring our bodies to church? My professor, Chelle Stearns, posited these questions to us. What happens when we bring our sexuality to church? Our gender? Our physical reactions? Can we bring those?
If we cannot bring certain parts of ourselves to church, we become some sort of second class citizens. My professor looked around at us and asked us:"How does your particular fleshiness invite you into community, shame, vulnerability, and wholeheartedness?"
How do our bodies save us? How does the Body save us?
How are we working out our salvation on this earth?
---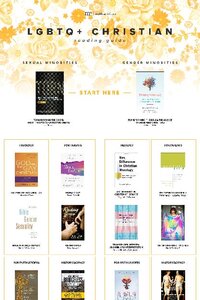 Get My LGBTQ+ Reading Guide!

Want to learn more but don't know where to start? This guide makes it easy.