I've never been very good at painting.
One summer, between my kindergarten and first grade years, I attended a summer art camp. We got to try watercolors. First, we wet our papers by putting the entire sheet into a large tub. Then, we went wild with paints. The colors blended together in interesting ways, so I kept putting more and more color on. It didn't get prettier. At the end of the night, instead of showing off a bright rainbow of color I was holding a sheet of ugly brown.
When I moved up in my art classes and it came to painting pictures of recognizable things, I hated it. At my art school in college, I avoided all the painting classes — even the digital ones. I couldn't escape Art History though and it was there that I was introduced to the work of Franz Kline.
My favorite artist.
Much of his work is painted in two colors: black and white. Using big bold brush strokes, he attacks the canvas. They look like East Asian letters if one were to zoom in on the cross sections. Kinetic, full of energy, and beautiful. Once, I hired someone to build me two giant canvas stretchers, much taller and wider than me, and I spent a day in my studio trying to replicate Kline's work. I used a broom.
It was a full body process, using the broom to paint. Wide, black strokes appeared on the canvas as I used both hands to try and get as much paint on the piece as possible. It splattered all over my studio. Black. And White.
I think we do this with people.
As we grow up and look back on our memories, often full of difficult things (because that's what we remember best), we begin to paint. Broad and vigorous strokes. Black and white.
Good and bad.
As we categorize, our stories shift slightly with each telling. We begin to remove nuance and soon there are only good guys and bad guys in our stories. But then, we go back home and see the people we colored as bad and our paintings get challenged.
Because people are complex. They cannot be painted with such broadness.
We don't just do this with our own stories. We do this with the other political party, with that pastor who wrote a book we didn't agree with, or that kid who just came out as gay. We get out our brooms and our paint and start brushing. It sometimes takes our whole bodies to furiously color.
As I finished my painting, I stood back to observe. Parts of it I liked and parts were off. A big glob of black had fallen in one corner and there was too much white space in another.
I spent the next several days going in with smaller brushes detailing the painting. It took me longer than the original painting session to bring it to a place where I could step back and see a painting that I wanted to place above my bed. The details were the important part and they made me appreciate Kline's work all the more. He held a balance in his paintings: between black and white, and, if you look closely, shades of grey.
As we tell our stories and as we walk through life, it is easy to paint the bad guys. Yet, what does it look like to share our stories of hurt, and the people who hurt us, while holding onto the goodness that is still present within those people? There may be more white than black, but if that black stroke goes directly down our hearts, it makes it hard to see anything else.
We may have to put away our brooms for our little brushes.
---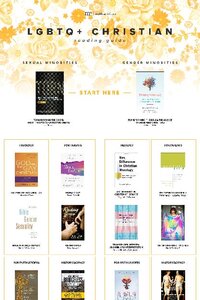 Get My LGBTQ+ Reading Guide!

Want to learn more but don't know where to start? This guide makes it easy.