A few weeks ago I got to interview a married gay couple. Here's what I learned:
"For how many years we hemmed and hawed about even going this route, I think we probably have thought about this more than at least your normal hetero couple."
Beth and Danice are cuddling on their couch in their small living room in Eastern Canada. I'm Skyping with them – they're one of the few lesbian couples that I know who are actually married. I met them briefly several months ago at an event their ministry, New Direction Ministries Canada, was putting on in Seattle and ran into them again at the Gay Christian Network conference in Portland. Now, we have skipped years of getting to know each other and I'm about to ask some invasive questions about their marriage.
"It's funny, we actually were just talking about this in the car last weekend," Beth chimes in, we're discussing what they believe is the purpose and intent of their marriage – a question that causes many couples pause, "a lot of my thinking comes from the book Sexuality and the Christian Body by Eugene Rogers." I've read the book, it had a big impact on my own thinking of marriage, "He refers to an Orthodox theology of marriage that brings in the idea of sanctification – of binding yourself to another person that you can't escape from. You are seeing yourself from another person's eyes for better and for worse and that is actually something that changes you and transforms you into being more like Christ." I'm nodding my head and am noticing the subtle eye contact that Beth and Danice are sharing every few moments. They are very close – both physically and in the way they interact with each other. Danice continues, "Rogers is saying 'let's not exclude gay people from marriage because we might be excluding them from something that helps them become more Christlike.'" This is a powerful idea to me and am struck by how much Beth and Danice have thought through this. To me, it feels like a microcosm of larger gay Christian culture – the decision to get married is much more intentional in these circles than it is in a heterosexual context. As Danice confirms a few minutes later, this wasn't a normal next step for them. Getting married was also meant losing ministry jobs and close relationships. They had to weigh the options for years before deciding to get married. "[Marriage] gives us more of a solid framework to mess up and apologize and know that we will be forgiven…even if it is eventually. It requires us to put ourselves aside for the sake of relationship and that brings growth and holiness."
I'm curious about how they feel their gender sameness impacts their relationship. They pause as Danice laughs, "that's a really good question, I don't often think about it." After a bit of pondering, Beth starts to talk, "A pastor friend once asked us how we read a passage in Ephesians about marriage and I said that I read it in the same way a man would read that he's Christ's bride…it just requires a little bit of translation on our end to figure out how it applies to us."  They both look at each other, seemingly stumped, Beth speaks, "It's hard to know how we're different than a hetero couple because we're not in it." Danice interrupts, "but, we have talked about how we don't have to deal with some of the same issues such as gender equality. We don't have to have those conversations about who's gonna cook because 'you're the wife' – we don't have to worry about that." She continues, pulling on her experience as a marriage counselor, "I've worked with couples where we've had to confront gender issues based on how they grew up with certain expectations of the opposite sex. We almost have it easier. Although, there's the obvious fact that if we want kids, we have to pay for them." We all laugh, the point comes off as funny and is yet another reminder of how much thinking and intentionality that is going into Beth and Danice's relationship: they are going against many cultural norms. "This does get down to some of the silliness of the gender complementarity questions, because honestly we are so different in so many ways that have nothing to do with gender. I can't imagine that our experiences are really that qualitatively different than a hetero couple." I nod again, thinking about how often even the questions that we ask about marriage are wrapped up in heteronormative expectations. Beth and Danice are two very different people coming together in a marriage relationship.
I hang up feeling relieved. Going into this interview, I wasn't sure what to expect. I wasn't worried about Beth and Danice, they are wonderful, but I was worried what narratives would be confirmed. There are so many voices in the world that say that gay relationships inherently cannot work. There are claims that gay marriages must be put in quotation marks and that they cannot be Christ honoring. Yet, sitting right in front of me was proof otherwise.
We cannot claim that healthy gay marriages don't exist because they simply do. Beth and Danice have been together for over 10 years and they are not only surviving, they are thriving. They work together, along with an incredible team, in a ministry spreading Jesus. Beth and Danice fill me with hope: hope for the future of the church, and hope for my own future.
Further reading:
Sexuality and the Christian Body: Their Way into the Triune God by Eugene F. Rogers
Generous Spaciousness: Responding to Gay Christians in the Church by Wendy VanderWall-Gritter (Executive Director at New Direction Ministries Canada)
---
Portions of this post have previously appeared in A Normal Couple. Roberts, M. (2015) Unpublished manuscript, The Seattle School of Theology and Psychology.
Photo by Wendy VanderWall-Gritter
---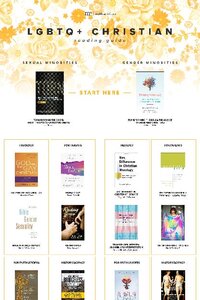 Get My LGBTQ+ Reading Guide!

Want to learn more but don't know where to start? This guide makes it easy.