A couple of weeks ago I was sitting on my bed feeling sorry for myself and complaining to God about everything. I was frustrated and going on and on and on about it. "I am trying so hard and have nothing…"
Mid complaint I was cut off. Not by a noise, or by my phone, or by twitter, but by a thought violently smashing its way into my head. As it lurched into body, I immediately sat up, slightly confused. You know all those stories people tell about "hearing a voice from the Lord" that make most of us roll our eyes? This is probably the closest experience I've ever had to that — a sudden, stunning, loud thought that didn't seem to originate from within me.
Remain faithful to what you have.
I looked up. Until this point, my complaining was internal. With this intrusion, I crossed my arms and with a pout on my face said one word: "fine." Fine. I can do that. I got out of bed, nervously laughed a little bit, and went and did my laundry.
The thought has stuck with me in the past weeks, becoming a little mantra. Remain faithful to what you have. On one hand, it's a reminder to count my blessings and be grateful for what is around me. Yet, this mantra goes much deeper. It has a level of meaning that my gut felt the moment it was uttered: it's a call to remaining with the little things.
Those friendships that I wish could be more, or different: remain faithful to what I have. Friendship. I have that. Right now. What does it mean to be faithful to that friendship and not waste my energy trying to make it something that it is not? It is so easy to let my mind go towards the what ifs and the second guessing and the insecurity. And yet, each of those things are a distraction from what is right in front of me. A friend. Can I be faithful?
My writing and my desire for success and publication: remain faithful to what I have. My blog. I have that. Right here. What does faithfulness to my blog mean? Writing and doing the day in and day out work of keeping it up. Can I be faithful?
The way I eat and the way I look at myself in the mirror and shame what I see: remain faithful to what I have. My body. I have that. It goes everywhere I do. What does it mean to remain faithful to the body that I have right now, the jiggly parts and all? What does it mean to love it for what it is and begin to give it what it needs? In each decision of what I put in it and how I move, can I be faithful?
Remaining faithful seems to be about the little moments. The earthy, yucky, every day, every minute work of making choices. It's a centering practice. I've begun to catch myself when I'm feeling insecure or hurt or complainey and ask "what do I have right now?" Can I be faithful to that, just that, in this moment? What is that single step that is in front of me, right now, that is a movement towards faithfulness and away from my discontentment? It doesn't have to be pretty, it doesn't have to be done with a good attitude, it can totally suck, but it's a step.
Remain faithful to what you have.
It's a process. It's an invitation. It's a way of waking up from that complaining, looking around, and begrudgingly saying "fine."
After all, that laundry isn't going to do itself.
---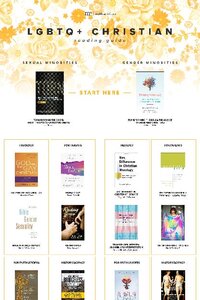 Get My LGBTQ+ Reading Guide!

Want to learn more but don't know where to start? This guide makes it easy.