"As we come to grips with our own selfishness and stupidity, we make friends with the impostor and accept that we are impoverished and broken and realize that, if we were not, we would be God. The art of gentleness toward ourselves leads to being gentle with others — and is a natural prerequisite for our presence to God in prayer."
― Brennan Manning
A couple years ago, I was sitting in chapel at the Christian university that I was attending. It was one of my favorite days, a day where the president of the school would get up on stage and answer any question posed to him. There were two microphones set up at the front of the room and anyone could pose a question. This particular year, the topic of homosexuality had been highlighted on campus due to some stories in the student newspaper. We all knew somehow it was going to come up during this session. About halfway into the service, a student got up and somewhat forcefully challenged the school's policy on homosexuality. As our president thoughtfully and gracefully answered the question, I remember sitting there thankful for a president who was filled with a compassion not often seen in this arena. Then, he shifted from the school's policy to ideas on how Christians should respond to their gay brothers and sisters. As he talked, heads around me began to nod. All of his words were good, needed, and refreshing. I agreed with him. Yet I found myself getting more and more frustrated as a similar essence of agreement spread through the crowd. Because, while our president was speaking from a place of grave understanding, the students around me seemed to be getting excited. He concluded his point and the crowd burst into applause. But instead of joining, I sat there in disbelief. Wanting to cry. In pain that I could hardly express (I tried talking to a friend moments later and he dismissed me with a quick "Matthias, we were clapping because we're supporting you.") The jubilance around me, the way people seemed to be patting themselves on the back with "we got this. We are going to help our gay brothers and sisters!" didn't feel like something to celebrate to me.
Because, the school's policy is one that says a gay person should stay celibate. That any form of relational expression beyond a carefully controlled friendship is sin.
People around me seemed to be clapping and cheering because I'm lucky enough to be "called to celibacy." As if a life without a person to walk through it with is something to celebrate. But, to me, this was just another reminder of that singleness, and while straight couple after straight couple left with arms around each other talking about how to get involved helping the gay people, I walked out of that chapel alone.
This idea of singleness is not something that I am at odds with. While I don't agree with a universal calling to celibacy for gay individuals (I think this goes against how the Bible describes a calling to celibacy) I do think that singleness is and should be a valid option. It's something that I, along with many other people, both gay and straight, are facing. We don't know how life is going to play out.
However, this day in chapel brought up something bigger within me. Something that I keep butting up against in almost every conversation I have. It's the idea of sin.
Sin is something that we are hard on. Something that we push against, something that we call out, something that we work through along side our communities.
And it should be.
In many cases, sin is something that we can agree upon as most sins are pretty clear cut in Scripture. But, when it comes to homosexuality, there is a rift. A rift that is large enough that I have a hard time seeing past it.
Because, there are two camps in the Christian community. Both of whom cling to orthodoxy. One of which believes homosexuality – whether it be a gay orientation, or only gay actions – is a sin. The other believes that it is not. These people believe that there can be sin within homosexuality, in the same way as heterosexuality, but that homosexuality itself (orientation and/or action) is not inherently sinful.
Herein lies a problem. Because we are talking about sin. We're not debating about whether God chooses who his children are going to be. We're not sitting over coffee passionately discussing our pre-tribuilation vs. post-tribuilation views. We're talking about sin. The thing that disrupts fellowship, that corrupts relationships, and that requires repentance in order to live lives as Jesus followers.
To the person that believes homosexuality is a sin, gay people are living unrepentantly in that sin. If these people are claiming to be brothers and sisters in Christ, what other option do we have than to call them out on their sin? Scripture says to do this. To the person who believes that it is not a sin, constantly being approached by concerned believers is hard not to take personally. A continual questioning of motives, beliefs about Scriptural integrity, and salvation. That hurts.
What are we to do? To some of us, these gay brothers and sisters are the worst sinners that can be – unrepentant and celebrating. Surely they will be in for a surprise at heaven's gates. To others of us, we are earnestly trying to model our lives after Christ, finding solid ground within that. For all of us, there is this barrier of sin that makes it impossible to see eye to eye.
This is something that I wrestle with. Time and time again. I see my dad sitting across the table from me smiling and saying "we can't both be right. One of us is wrong." I see people loudly proclaiming the fall of humanity to moral relativism. Yelling that we aren't taking a hard enough stance on sin. People who say that we are being judged because we can't look each other in the eyes.
I don't have an answer. I have ideas. Ideas that relate to Paul's discussions about circumcision and sin.
Maybe there are certain things in this world that are sin to some people and not to others? There are parts of Scripture that would imply that.
But, that's all they are, ideas.
And, I wonder, does this come down to trust too? The same trust that God is working in other people's lives as much as he is working in mine? The trust that the Holy Spirit is going to lead and prompt like he says he will. Do I trust that sin will reveal itself? And when people come to me with honest convictions, can I wrestle with them? Instead of pushing away claiming freedom and building walls?
I don't know.
As I walk out the doors of a chapel, can I look at the community around me and smile, knowing that conversations are happening? Can I accept offers of help without bitterness, seeing the light of Christ in the eyes of the people who approach?
Can I greet them with that same light?
---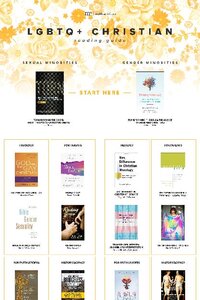 Get My LGBTQ+ Reading Guide!

Want to learn more but don't know where to start? This guide makes it easy.