"Oppositional energy only creates more of the same"
-Father Richard Rohr
It seems like much of my life gets centered around the motif of battle. There's "The War Against the Family" one one side and "The Fight for Rights" on the other. Each resorting to violence. Sometimes with action, but often, frequently, almost consistently with words. We stare each other down with hate-filled eyes, turn to our peers, and assure each other that we are the ones who hold love. We hold God, Jesus, Scripture. It's us. Not them. Thus, we can say whatever we want. Call them bigots, fundamentalists, close-minded. It's okay because they're wrong and we are right. We set up rallies, create hashtags – #IStandSunday – and use them as platforms to push rhetoric that tears apart all in the name of our Father.
We are violent and we call it love.
It feels good. In our friend groups we let out frustration and hurt by making fun of those people and it turns to gloating so quickly. "I'm so glad that we're the true Christians." We claim monopolies on love and truth. And then we speak it, because nothing is better than speaking the truth in love.
It doesn't matter that it only perpetuates.
I've been convicted lately as I walk down the street and pass by homeless person after homeless person. In the small towns I grew up in, homelessness was an abstract concept. There would occasionally be that one guy on the street corner, but that was rare. Here in Seattle, these people are everywhere. They are lined up along the wall of Macy's with their blankets and boxes on my walk home from work.
When I first got here, whenever I would pass someone I would pray for them. Lord Jesus, care for this beautiful person. Help them. I said it often, ever walking forward. Then I read an essay by theologian Fr. Ron Rolheiser that stopped me in my tracks: "As Christians, we pray to God 'through Christ' and in trying to answer that prayer, God respects the incarnation namely, that God's power is now partially dependent upon human action" (p. 83). He continues, "When we pray 'through Christ' more is involved than merely asking God in heaven to make some kind of intervention. The community too, and we ourselves must be involved not just in the petition but also in trying to bring about what the petition pleads for" (p. 84). When we pray, part of our responsibly as Jesus-followers is to do everything in our power to make that prayer come about. We are the hands and feet of Jesus.
I haven't been good at this. At all. I'm still walking and praying, but each time I'm now asking the question: how can I be the hands and feet of Jesus to this person? My faith should express itself in action. Actions of love – reaching out, past myself, in order to touch the Other.
Writing that makes my stomach hurt. Because it is so much easier to say my little prayers and move forward.
It is so much easier to look across the divide, create labels, and spew violence than it is to touch and invite into community. It is so much easier to stay on this side of the chasm.
But, when we refocus our eyes on the eyes in front of us. When we begin to acknowledge the humanity before us and ask "how can I help you?" We begin to change things. As Rolheiser writes, "The God of the incarnation tells us that anyone who says that he or she loves an invisible God in heaven, and is unwilling to deal with a visible neighbor on earth is a liar since no one can love a God who cannot be seen if he or she cannot love a neighbor who can be seen" (p. 99). We step out of the violence and into the fullness of community.
The body of Christ.
---
Rolheiser, R. (1999). Chapter 5: Consequences of the incarnation for spirituality. In The holy longing (pp. 82-107). New York, NY: Doubleday.
---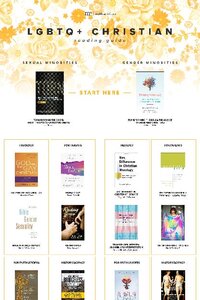 Get My LGBTQ+ Reading Guide!

Want to learn more but don't know where to start? This guide makes it easy.