I read another story of a family rejecting their gay son and appealing to their faith in order to justify it. Story after story after story. "We love you unconditionally, but…"
I feel the anger rising in my chest. I shake my head and feel the deep pain that is woven into each and every one of these lives. Rejected at the hands of a family that is claiming to follow the teachings of Jesus. Rejected in the name of love?
I know the other side. I know the excuses. I've been there. I've sat there in my certainty saying "I will never change my mind on this." I looked at the people who asked "what kind of love is that" and held my head high "love that is combined with truth." Nothing could get through to me. It's tough love and it's for the better.
That's what God wants. Right? God wants us to stand so firmly on our certainty that we cut off anyone who we perceive is being persistent in sin. Cut them out, weed the bad ones in order to protect the purity of everyone else. It doesn't matter what they say, we have scriptural assurance. As long as we stand firm, sit so strongly in our dogma, refuse to budge, we can remain certain of our goodness. "This hurts me as much as it hurts you." That pain will all be worth it when God looks at us and says "well done, my good and faithful one."
"Well done rejecting my beloved."
We see this in the life of Jesus who stood so firmly in truth that he made no room for the unclean. One who practiced tough love everywhere he turned: "This hurts me as much as it hurts you." Truth, unwavering. Because, that's what love is: a commitment to relentless certainty. It doesn't matter how you feel, how anyone feels. Rejection and love are synonymous terms.
Is it worth it to hold to our dogma so firmly that we sever our own flesh and blood?
What happens when we bleed all over?
We call this abundant life?
The blood. When we cut, we bleed. From both ends of the wound. Blood, everywhere. Pain, tears, a sickening feeling. Suck it up, it's what Jesus wants.
It's their choice, not ours. We're here, waiting, like the father in the prodigal son story. All our kids have to do is come back.
They aren't being obedient. They're the selfish ones.
Push, push, push, push, push it all. All of the hurt and the pain and the confusion and the anger. Push it out there into your kids and hold your spouse so close and whisper "it's all going to be okay if we hold firm." Push them away and hope that they'll come back to you. Put up those stone faces and harden your heart to their pleas. Don't look. Don't budge. Don't you dare listen to their stories. Just like Jesus.
The author and finisher of our faith.
And here we are, clutching our wounds, trying to stitch them up without the help of each other. We pretend we have our arms when all we have are stubs. We weep in our separate corners and each cry out to Jesus who reaches down and hugs and weeps with us. Separately. Our flesh and blood severed, the Body broken.
And if your right hand causes you to sin, cut it off and throw it away. For it is better that you lose one of your members than that your whole body go into hell.
Surely this is love. Surely this is truth.
---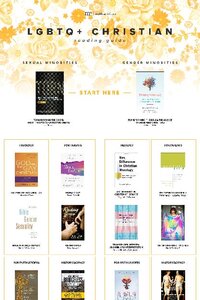 Get My LGBTQ+ Reading Guide!

Want to learn more but don't know where to start? This guide makes it easy.