5 Tips for Healthier Conversations
As a gay Christian who sits within church circles, I'm in the middle of conversations about my faith and my sexuality often. There are a few things that I run across again and again that I feel like may be helpful to point out in order to foster more healthy conversations.
1)  It's okay to ask questions
Even with my close friends, I sometimes feel a hesitance to engage my sexuality in fears of offending me. Something in the news will pop up and I'll notice discomfort rise in the room. That is okay. Just don't let that discomfort stop you from entering into conversation. If you feel intimidated to be talking about LGBT issues with a gay person in the room, that's okay; voice that discomfort and press forward. It is better to speak to what is happening in the room than to glance awkwardly around in the silence. If you have questions, ask them. If you don't know how to ask your questions, then simply say 'I'm not sure how to say this right, but I'm wondering…'
For those of us who are minorities in these places, this is where pick up the ball. We are often so quick to jump on our sisters and brothers for using the wrong language/jargon. This is vulnerable for all of us. We need to express the same graciousness we want from others. One practice that I've been working on myself is to assume best possible intent instead of the worst in others. It's hard not to jump to negative value statements, especially with the current rhetoric in church culture. However, many of our sisters and brothers simply want to engage with us. Let's do our part in creating spaces safe for everyone, including those that we disagree with. That does include voicing our own discomfort ("when you use that word, that makes me feel devalued, here's a better alternative") but it doesn't warrant attack.
2) It's okay to disagree
In fact, we should expect disagreement. When we own the places where our beliefs don't align we are able to move forward more quickly. If our focus is to have a conversation, then we don't need to convince each other. There's this cliche quote that I love from Stephen Covey, "Seek First to Understand, Then to be Understood." We don't have to agree in order to understand another person. Our goal should be focused more on the other than making sure our opinions are known. We are standing in front of an image barer of God, often a sister or a brother whom we have known for years. We don't need to turn on each other.
This hits both ways. When I'm being approached by someone who I know disagrees with me, my first instinct is to brace myself and start pulling up all of the arguments I've read. I hit defense mode. If aggression is involved, my anxiety is heightened. I focus so much on getting my point across that I forget to try and put myself in their shoes. Aggression comes from places in our stories, understanding and exploring this will help us move towards mutual understanding.
3) It's okay to be kind
I think sometimes we get into these conversations and focus so much on having the right knowledge that we let go of our interpersonal skills. I feel like it should go without saying that we should be kind and gracious to each other, but often our rhetoric takes over and we become unrecognizable. We tend to focus so much on being right, of having the right information or the right argument that we miss the overwhelming message of Jesus: it's not so much about right information, it's about loving each other.
4) It's okay to be humble
The "I'm right, you're wrong" attitude inherently breeds pride. When we focus on the rightness or wrongness of what we're talking about, we can fall into making value judgments. If I'm right then I'm good, if you're wrong then you're bad. Yet, we are talking with people who have incredibly different stories than our own. As we move away from prideful attitudes we can better seek to understand.
Again, this humility goes both ways. For me, it's easy to write this with people who disagree with me in mind, however to turn it on myself is uncomfortable. The moment we get so settled in the rightness of our beliefs is when we should start challenging them. There is absolute truth, but we do not monopolize it.
5) It's okay to not know
Sometimes we get so caught up in proving our point that we panic when we get into uncomfortable territory. This can lead to attacking the person in front of us. If we willing to admit when we don't know something, we can work through that together. Saying "I don't know" may feel like we are losing in the conversation, but again, it's not about winning and losing: it's about understanding.
---
Reframing these conversations to working together instead of battling against each other can provide safe spaces where we can explore and learn. As we seek to actually see the people in front of us instead of trying to prove a point, we are better able to walk forward into positive change.
---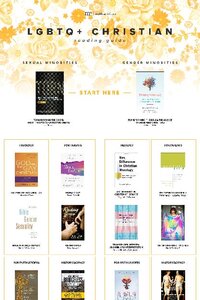 Get My LGBTQ+ Reading Guide!

Want to learn more but don't know where to start? This guide makes it easy.