"So, what do you actually believe about Jesus?"
I stared into his warm brown eyes, eyes I were learning to let myself get lost in, and felt a lurch of panic in my gut.
"Do you pray? Talk to him?"
I began to stumble, "Yeah. Like, I talk to him every day. But. I don't believe in that substitutionary atonement stuff. He came to subvert violence…" My words poured out as I thought "shit, this is making no sense at all." And it hit me. I'm scared of talking about my faith.
I'm scared of talking about Jesus. About what I believe. So much so that I haven't verbalized a simplified theology in years. 
I grasped and pulled and the high level language of academia saved the day. As I cut off the conversation with a kiss, I found myself wondering "what happened to my ability to talk about this comfortably?" What happened to my ability to step outside of the classroom, outside of the literal Master's degree I'm getting in Theology, and actually talk about my faith?
In the weeks since, this question has been following me around. In a visit to my old stomping grounds in Wisconsin, I found myself freezing again when the Jesus-saturated language of Christian subculture made its way to my ears. I felt uncomfortable. Fear even. I tried to enter in, to use the same language, but a part of me pulled back, inward, and I heard another voice: this is not for you.
This is not for you.
Because I'm not supposed to be a Christian. I'm not supposed to be a person of faith. I'm not supposed to talk about Jesus and his work in my life because of that one other word that also defines my life: gay. My sexuality excludes me from this conversation. And as much as I don't believe this to be true, as much as I've worked to integrate these two parts of myself, I've internalized a message that tells me I don't get to talk about my faith. I don't get to talk about Jesus.
Because I'm the worst of all the sinners. I'm a poser, a heretic, a wolf in sheep's clothing. Blasphemous.
I feel that. The subtle messages behind the exuberant smiles: here's the one who has backslidden. The one who has prioritized sin in his life instead of trusting Jesus. Here is the disappointment who came from such a strong foundation.
Shame voices. Fear voices. Voices that whisper lies into my ear. That tell me I'm unworthy to talk about the Jesus who is at work in my life. The Jesus I cling to, who I see working in my life daily. The Jesus I talk to, whisper to, cry to. Shhhhhhhhhh.
I'm wanting to change this.
Not change it in a way that I return to fluency in sickening Christianese: "dude, how's your devo life?" But, change it in a way where I talk about my faith. Change it in a way where I actively talk about my spiritual life with other Christians. To challenge the idea that my faith is somehow less because of my sexuality.
Because it's not.
I think, as LGBT Christians, it's important for us especially to use faith-language in our conversations with other believers. Because it causes pause. It's an interruption to the norm. Theological conversations are over-dominated by cis straight voices. For us to speak about our faith comfortably is to challenge the system, to subvert, to enter in from the margins. For us to speak about our faith is to do Kingdom work. It's a way to show that Christ is our Lord too. It's a way to give explanation for the hope we have in Christ.
This is something I'm hoping to practice. To be aware of as I walk around in the world. I feel so unqualified to talk about theology, faith, etc. But, the reality is: I'm not. None of us are unqualified. We've just been told so many times that we are.
Jesus is doing a good work in us, through us, and it's time we talk about it.
Will you join me?
---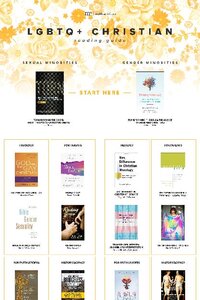 Get My LGBTQ+ Reading Guide!

Want to learn more but don't know where to start? This guide makes it easy.