"OH HELL NO, I don't like the direction this world is heading. You got two Dudes on national TV (Espn) kissing each other and they being praised for it? This is the problem I have with this, People in this nation are forcing homosexuality down our throats & if you think that they aren't you're wrong. This is becoming something so serious that if you don't support homosexuality they call you Homophobic and a bigot. Let me get something clear, I don't hate gays; but when I turn on espn I expect to watch sports NOT two men kissing each other. They praise Jason Collins like he's Michael Jordan for coming out as gay and when Tim Tebow said he was a Christian he got chewed up because of it. By no means do I encourage violence against the gays, but the fact is that the media is trying to force it down our throats. Somebody needs to say something, because I don't want to live in a world where my kids are forced to accept something they don't agree with. You see, They try to silence those who talk about this topic. But I'm going to talk regardless. I'm out. Peace."
-A post on Facebook
Welcome to the world, good sir. A world where, at times, you see things that may make you uncomfortable. A world that doesn't center around your every need, your every desire.
God forbid that you turn on your tv and have your worldview challenged. God forbid that your children grow up in a culture where they learn how to engage with people who are different than them.
Take it away from me! I don't want to see!
One man, a single man in the entirety of the NFL, has the nerve to kiss his significant other. How dare he share the moment where his dreams are coming true with his boyfriend. It doesn't matter that I see kisses with significant others all the time when they're of the "right" gender. It's being forced down my throat!
And you have the nerve to call me homophobic and bigoted. I don't hate gay people. I just want to pretend they don't exist.
Somebody needs to say something. I'm seeing that things that don't fit into my tidy little box. This shouldn't be allowed. All I want to do is sit on my couch and be affirmed.
Welcome to the world. A world where we don't all fit in.
**Read the follow up to this post here**
---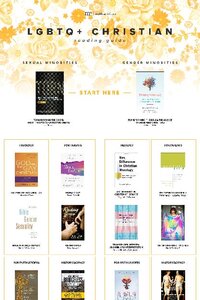 Get My LGBTQ+ Reading Guide!

Want to learn more but don't know where to start? This guide makes it easy.