A couple of years ago, I was visiting a friend over spring break. It was a sunny morning. I woke up early, found my way to the kitchen and folded up in a cozy window seat. As I relaxed into the sunshine and words of Love Does by Bob Goff, my friend's mom walked into the kitchen. She saw my book and asked what I was reading. I explained that it was a collection of short stories that explore love being more than just a concept, but something we are called into doing as followers of Christ.
"Sounds interesting" she said, "but I'm getting so tired of people in the church focusing so much on love." A degree of disgust was on her face as she continued. I nodded my head feeling perplexed. Love, for her, was turning the church soft on sin. And that wasn't okay.
That conversation has stuck with me. This week, it reappeared in my memory as I posted a photo of a new shirt I bought:
This shirt was made by blogger Micah J. Murray in memory of Ellie Conant. The proceeds support the first LGBTQ youth shelter in Korea. The message is based on one of his posts from a few years ago, "Why I Can't Say 'Love the Sinner/Hate the Sin' Anymore." My picture was met with a flurry of comments, some of which caught me off guard. To break down this message to simply saying "love" seemed to fly in the face of some peoples theology.
And it made me wonder.
When did "love" become a dirty word?
When did a simple, no qualifications call to simply love people become a mark of something that's wrong with portions of the church? It's a critique that I keep running across. Mostly pointed at the more progressive branches of the church. We focus on love too much. I hear this critique and am baffled. "Why is this even a problem?"
I get it. Sin. We speak about love at the expense of talking about sin. But, hasn't sin been conquered by the love of Jesus? I look at this insistence to talk about sin, this absolute need to call out sin in each others' lives, especially those who are different than us, and wonder. When did sin become this important? When did it become so crucial to instantly qualify any call to love with "but don't ignore sin!"
What is the core of our theology? Are we beings that have been loved so much that God sent his Son to the earth to redeem and transform? Or are we sinners that must be reminded again and again and again of our depravity? Are we to be lifted up into life and light? Or beaten down again and again?
Is our theology a theology of shame? "You are not good enough, you filthy, unloveable, undeserving person?"
As if we don't already do that enough to ourselves. As if we don't look in the mirror every day with knowledge of how we have failed and fallen and let ourselves and others down. As if the Spirit doesn't work to convict and reveal where we need to make progress in our lives.
What does Jesus call us into? What is the example that he sets for us as he moves through spaces with the "sinners"? What is this abundant life that he speaks about?
Of course, all have sinned and fallen short of the glory of God. Of course. But the story doesn't stop here. It doesn't stop at the sin. It doesn't get stuck on a loop: "sinner, sinner, sinner, sinner!" It moves on to redemption. And what are we? Redeemed beings. Beings who have had our sin taken care of once and for all. Does this stop us from recognizing where sin exists in our own lives? Of course not. But is this where we are supposed to stop and meditate? On our own fallenness?
Or are we to focus on the one who is making all things new? Including ourselves. The One who is also called Love.
I was talking to a friend a couple weeks ago and something he said struck me. "I can love myself exactly where I am at and still wish to improve." What does this kind of love look like? A deep love for ourselves, for our brokenness, the parts of our lives that are still being worked out with fear and trembling. What does it mean to extend love into those places, to look at them with friendliness?
Might this be the way God looks at us? The creator, redeemer, sustainer of the universe who is called Love.
For there is no fear in this place. And were is the locus of our need to focus so much on sin? Might it be in fear? Fear of judgment? Fear of God's wrath? Fear that if we don't do enough, hate ourselves enough, punish ourselves enough, that God will do more, hate more, punish more? If we don't talk about sin enough, God will have the last vengeful laugh. What is this theology? What is this view of God? What is this fear?
Have we made sin an idol?
What is the good news of the Gospel of Christ?
What is the good news?
Do we believe it?
---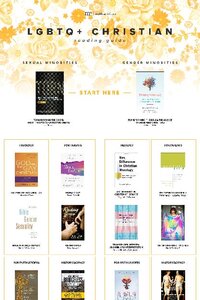 Get My LGBTQ+ Reading Guide!

Want to learn more but don't know where to start? This guide makes it easy.