The Lie tells us that we don't belong.
Some of us have heard it from the very beginning of our lives. "Look at those people, abominations." We knew about The Lie before we understood what it meant. "Some bad people who are boys like boys instead of girls." We internalized it, repeated it, believed it. Then spoke it over ourselves when we found out that we, ourselves, were those "bad people."
Some of us heard The Lie when we went to a church for the first time. "You cannot be gay, or lesbian, or bisexual, or transgender, and be a Christian. Those two things are not compatible." We heard it presented alongside the Gospel, as if the two went hand in hand. "Jesus will save you from your sin. Especially that sin. If you try hard enough." So, we internalized it, we repeated it, we believed it. It sunk into our very bones, wreaking havoc on our lives, spiritually, emotionally, even physically.
The Lie twisted and turned and moved and evaded. It grabbed our hearts and whispered words of judgment, shame, you're not trying hard enough. You don't have enough faith. You are worthless. How can anyone love you? What if they knew?
The Lie found its way into the mouths of our families, our friends, our pastors, our leaders. The ones who we loved told us that we cannot be loved. The voice of The Lie, projected onto the Holy Spirit, Jesus, and God. "Not my words but Theirs."
We internalized it.
We repeated it.
We believed it.
"I am not enough."
The Lie spoke and we believed. When we questioned it, The Lie was there in the faces of our loved ones to bring us back. Hate the sin. Hate the sin. Hate the sin. Hate ourselves. The wicked people that we are. The abominations that we are.
The Lie.
It's hard to forget, isn't it? It's hard to move past. Even when named as a lie, it sticks with us, whispering to us moment by moment. "You are not loved. You are fully wicked, not able to be redeemed." "If you tried harder you could be normal." "Jesus has the power to change you, if you'd only trust him." The Lie.
What are we doing with The Lie when it rears its ugly head? How do we speak to ourselves? How do we envision ourselves? Do we still believe it?
I do.
I still believe that I'm not worthy to be loved.
A lifetime of being told that my God-given way to connect most intimately with another human being is inherently unredeemable wreaked havoc on my self-worth. Assurance that God will take care of me, that I can still love within friendships, didn't help at all. The message I heard was clear: at the deepest part of myself, I cannot love, I cannot be loved. I was inherently disordered. Not because of sin. But because of something so much bigger than sin – my entire being. Myself. No matter how often I was told that I could separate the two, I couldn't.
That's the power of The Lie.
The idea that lesbian, gay, bisexual, transgender, and queer people cannot be Christians is a lie. The idea that we cannot love and be loved, that we cannot glorify God with our bodies, that we cannot get married, that we cannot serve Jesus, that we cannot proclaim the Gospel, is a lie. It is a lie from the pit of hell.
It is a lie that I am fighting against with my whole being.
My life depends on it.
---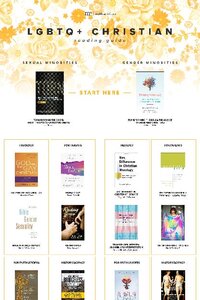 Get My LGBTQ+ Reading Guide!

Want to learn more but don't know where to start? This guide makes it easy.