"Hospitality is not to change people, but to offer them space where change can take place."
-Henri Nouwen
The morning sun was shining onto the black leather couches and brick walls of my seminary's common areas. We were there for a special Friday morning seminar introducing new students to some of the inner workings of the school's ethos. The information being presented wasn't necessarily new, but important to verbalize instead of letting arise from inference. Our dean, the kind of man with a personality that makes you forget you just met him, posed questions for us to discuss: whose voices (and cultural norms) are going to be most heard among our cohort? Whose voices will be heard the least? How do we become aware of our unique privileges and cultural assumptions? As we wrapped up, we read this quote from the Catholic priest and mystic Henri Nouwen: "Hospitality is not to change people, but to offer them space where change can take place." As followers of Jesus, we are commanded to be people of hospitality.
What does this look like in our lives? How do we practice hospitality? I think it's easy for us to stop at the "oh yeah, I have people over for dinner every week" stage (which is awesome, there's nothing like having a full house…or tiny studio apartment…full of friends and good food). Is it possible to practice hospitality in a more intimate way? A way that seeps into every conversation and interaction we have with others?
I think so.
Of course, it's relatively easy to practice hospitality with people whom we love (barring the times where we just can't stand them, which can be often). As relational beings, there's a certain amount of hospitality – a creation of safe spaces – inherent in our interactions with the people we choose to spend our time with.
That hospitality gets much more difficult as we approach people who make us uncomfortable. The people where those relational connections are strained or nonexistent (and we'd prefer it if it stays that way). Those people who have ideas about the world that we just cannot stand. The people who disagree with us on every conceivable issue and all we want to do is yell at them. People who struggle with things so foreign to us that obviously it's a fault in their character. How do we practice hospitality with them?
We are not here to change, but to offer space. Nouwen goes on to write: "[Hospitality] is not to bring men and women over to our side, but to offer freedom not disturbed by dividing lines. It is not to lead our neighbor into a corner where there are no alternatives left, but to open a wide spectrum of options for choice and commitment. It is not an educated intimidation with good books, good stories and good works, but the liberation of fearful hearts so that words can find roots and bear ample fruit. It is not a method of making our God and our way into the criteria of happiness, but the opening of an opportunity to others to find their God and their way. The paradox of hospitality is that it wants to create emptiness, not a fearful emptiness, but a friendly emptiness where strangers can enter and discover themselves as created free; free to sing their own songs, speak their own languages, dance their own dances; free also to leave and follow their own vocations. Hospitality is not a subtle invitation to adopt the life of the host, but the gift of a chance for the guest to find his own." (1)
Woah.
It's so easy for us to want to change people. I find myself doing this frequently. I get the desire to call out my friend for an attitude that I dislike or am tempted to "grab coffee" with that person who continues to post those facebook statuses. However, when we jump into conversations or environments with the posture of "you're wrong" or "you'll never change my mind" we not only ruin any potential of relationship-building, we cut our very selves off from hospitality. We create dead spaces where growth cannot occur.
As much as it's difficult to admit, we don't have all the answers. I don't have the answers. I have insights, ideas on how to live a fulfilling life, and beliefs that I hold as truth. However none of those things are mine to crush another person with. An essential part of true hospitality is a willingness to engage in dialogue. Not suspending my own beliefs, but understanding that other people hold truth as well. We may affirm that we are correct, but if we hold that correctness to the point of a refusal to intentionally engage with the person who disagrees with us, then what are we doing?
I think Jesus walks in these open spaces. Not within our certainty, but within our questions. Within the dialogue and connectedness that brings us together. When we close ourselves off to others, might we be closing ourselves off to God too?
This is what I'm pondering.
---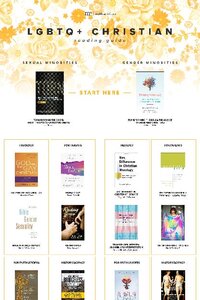 Get My LGBTQ+ Reading Guide!

Want to learn more but don't know where to start? This guide makes it easy.