There's a small stretch of sidewalk on the way to my favorite coffee shop that takes me back in time. The trees are large, hiding the forgotten iron lamp posts that are yellowed from years of use. To my right, the buildings, looming when they were built but now dwarfed by the skyscrapers nearby. I like this patch of my walk and always slow down, imagining what the street was like in the 20s and 30s.
I've been pondering the past few days our tendency to ignore and exclude. Not just our tendency, but our desire to do so. Anything that doesn't fit in my little world, I don't want to hear about. Like those lamp posts that took me weeks to even notice after walking the same route many times. The moment of seeing was slightly unnerving. They watched me pass by, over and over again, silently, waiting.
Why do we sit in the comfort of our lives, pushing away, turning our heads, refusing to acknowledge those people right next to us? The moment they speak up, our defenses rise, "I don't talk about my sexuality, I don't want to hear about yours. Leave me alone." A facebook rant, a few choice words. Get away. Stay away.
The smiles of friendship and welcome don't take long to disappear. You are welcome as long as you don't say these things or speak your desires; if I don't have to come face to face with those things that I don't like about you.
I feel this. I do this.
And I think about it as I walk though the yellow and red leaves scattered along the cracked and uneven sidewalk of days past. I turn my head, see the bulldozer responsible for taking down the buildings on my left to make room for another skyscraper. Progress.
One of my professors talks about how the greatest desire of our human hearts, the way we are created, is to be known. To love and be loved. Yet, so often, in our pursuits of love we exclude and are excluded. All of us. It's not just a thing that revolves around who we desire, gender, or sexuality. We exclude and are excluded. It's a way of survival. I'll construct my world. You construct yours. When they intersect, we bristle and scream loudly "I LOVE YOU. YOU ARE WELCOME!"
And go back to excluding.
There's a tension here. And it's a hard one. Because saying words are one thing, following up on them are another. I ponder this as I catch a glimpse of the waters of the Sound that shimmer with the grey colors of the sky. I smile at that lady with the dog, pull my coat tighter against the breeze, and turn the corner. The words of that rant I read several days ago are still fresh in my mind. The conflicting emotions that they bring. I want to exclude, yet they keep penetrating, working into my shell.
How do I stay present with this person, these people, and also continue to exist?
I'm not sure.
---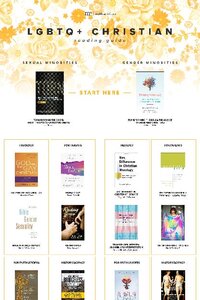 Get My LGBTQ+ Reading Guide!

Want to learn more but don't know where to start? This guide makes it easy.