I'm watching the sun spread its reaches over the tall buildings of Seattle and make its way into the living room. My Christmas tree is still sitting where I left it, a bright green against the brown branches outside my window. I want to sit here all day and watch. The streets are still wet from last night's rain, making the sunlight glisten and sparkle. People are moving about and the seagulls are yelling. Life is continuing, and I'm supposed to go join them.
I waved goodbye to Seattle last Thursday morning and made the short jaunt to Portland for the Gay Christian Network's annual conference — I didn't know what to expect. Last night, I returned to the familiar wet streets, exhausted and needing to pee…(my friend Kelsey bet me a piece of pie that I couldn't make it the entire trip home without using the bathroom after she heard I drank a venti peppermint tea right before getting on the bus…I am looking forward to that pie). Yet, the exhaustion was energized. In the sunlight of this morning, that energy is still filling my chest. It's a combination of hope, determination, and restoration. I'm not sure what it was about this gathering of people, but something special happened.
It was walking into a room that was packed so full of eager faces that I had to sit on the floor. "Welcome, first timers" appeared on the screen, I looked around, there were hundreds of us. As we learned about what was in store for the weekend, the guide confidently proclaimed "this weekend is going to change your life." We broke out into small groups to make new friends and I sat down with a man who looked close to my dad's age. He was a dad. An attorney from Kansas, "this is my son's scene…I figured I should probably come and see what it's all about." I listened to his story: his son came out to him several years ago, "it was the worst day of my life," and they began a journey together. I looked at his name tag – yep, this story definitely seemed familiar. His son's book is sitting on my bookshelf. He asked about my parents and he spoke encouragement. Anything can happen, be patient and live with grace. Maybe, someday, they'll be sitting at one of these tables.
It was being engulfed in a crowd of 1,400 people singing "Praise, praise the Father, praise the Son, and praise the Spirit, three in one" and feeling the tears start flowing. I looked to my left and my right and saw streams down the faces of the people all around. I was not alone. Here is a community of hurt people gathered in one voice lifting up the name of Jesus.
It was listening to a pastor look out over the room and say "I'm sorry I have hurt you" and feeling the tears come again, this time full on ugly crying. It was the hugs that came after, "I don't even know you, but I want to give you a hug." So. Many. Hugs. With new friends and with people I've seen and talked to for months and years online.
It was walking to the convention center in the rain to be greeted by the signs that I've only seen in pictures and finding a huge rainbow just above. God's faithfulness. Surrounding them was a much larger crowd, a human wall lining both sides of the sidewalk with handmade signs: "Welcome to Portland. We are glad you are here." Their voices singing, "Jesus loves you, this I know, for the Bible tells me so." More tears.
It was watching a married straight couple walk through these days with me. My dear friends, Liana and Josiah, who on a leap of faith decided to fly from Arkansas to attend. "I've never been to a more Christian environment. People aren't fake here. They aren't trying to one up each other in being the perfect Jesus-followers. This is real." We would hold each other as tears took over each of us, in awe of the deep presence of God.
It is sitting here, looking at the sunlight, and letting the tears flow again. It's going to take days and weeks to let myself feel and sit within the experience. One thing I do know – there is a community of believers scattered around this world who have a faith that stops me in my tracks. There is a group of people who exist together to push forward the name of Jesus despite being told over and over again "you are not welcome here." It is a community that willingly walks up to those same people, who sometimes are holding large signs, and sometimes are just trying to understand, and invites them "you are welcome here and Jesus loves you. Come, sit at our table."
These people are Jesus-followers. Christians who are lesbian, gay, bisexual, and transgender. They are some of the most beautiful, genuine, and faithful people I have ever met.
I am deeply grateful.
---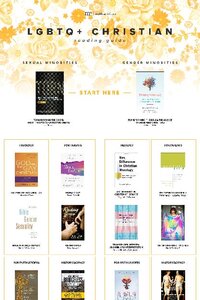 Get My LGBTQ+ Reading Guide!

Want to learn more but don't know where to start? This guide makes it easy.