You have a secret. Or a hope. Or a part of yourself. One that you are holding close to your heart. With terror. Or maybe shame. Or maybe fear. Or maybe judgment. You are holding it, gripping it, ignoring it, fixating on it, carrying it, trying to forget it. Trying to say the right things, do the right things, marry the right person, the right gender, wearing a mask. You are working so hard.
There is a love bigger than you can imagine.
As you look around, you see the faces of the ones that you love. The ones that you are scared of. The ones that hold the power to accept or reject. The ones you worry about, trembling late at night, if they find out will they stay? What will they say? What will they do?
There is One who sees you.
One who sees all that you are. In every capacity. In every fluctuation. You are seen and you are loved.
My dear friend, you who sometimes crack open that door and wonder what life could be like. Take your time. Breathe in these spaces, feel your fears, test your waters, but do not let those fears define your life.
Do not let the fear win. There is no fear in love. Love drives out fear.
Love challenges fear. Love accepts. Love doesn't leave. Love doesn't abandon.
And yet, we still sit in it. Our fear. We let ourselves marinate in it. We do not take those steps towards Wholeness, towards Love, because we are so scared. We are scared of the ones who do leave. The ones who do abandon. The ones who we have felt love from. The ones who we love. The ones who break our hearts, the ones we cannot imagine life without.
There must be something wrong with us.
And that is the voice of the Lie. The voice that tells us that we must change, hide, shrink, twist and break and snap in order to belong. We must be something, someone, else in order to be loved. We must do something. We must fight our sins with vigilance. We must not let our desires rule our lives. Because this is the Only Way. This is the Right Way. This is the Narrow Road. This thing that we hide within isn't our true self anyway. Someday we will be made new.
But, newness is right here.
Newness starts with confession. Newness starts with the words that we are terrified of. Newness starts with looking reality in the eye and seeing it for what it is. Newness starts with living into Truth.
Not the truth proclaimed by those who use their love as a means of control. Not the truth that is used as a threat. This is not Truth.
There is Love bigger than you can imagine.
There are arms that will catch you.
The arms of Jesus.
The arms of the Father. The arms of the Son. The arms of the Spirit. Creator, redeemer, sustainer.
Arms that are waiting.
My friend.
Do not let fear make your decisions for you.
Choose Truth.
---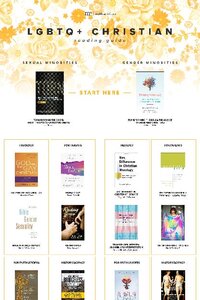 Get My LGBTQ+ Reading Guide!

Want to learn more but don't know where to start? This guide makes it easy.