For You formed my inward parts; You wove me in my mother's womb. I will give thanks to You, for I am fearfully and wonderfully made; Wonderful are Your works, And my soul knows it very well.
-The Psalmist, Psalm 139
I am thankful to have a job that allows me to listen while I create. Often times, I'll throw on a TED talk, or find another podcast featuring Brene Brown that I haven't heard yet. Between frequent music breaks, I'll listen to a sermon in little chunks, or try and find something that I want to learn about. It's stimulating and fun. Yesterday morning, I stumbled across a video that Lisa Salazar posted on her facebook page (you may remember Lisa from her guest post a few weeks ago). This video was an interview with Katie and Arin, a teen transgender couple from Tulsa, OK.  I first heard about Katie and Arin a year or so ago when I saw a news report on them. Katie, being male to female transitioned, and Arin being female to male transitioned found each other in a support group meeting and feel in love.
It's a lot to wrap my brain around.
I don't want to pretend that I know much about the transgender community. Being cisgender, I can't relate to what it is like to feel trapped within my own body. But, there was something about this couple that caught my attention. Their radiance. Two beautiful human beings who share an extremely difficult experience.
The video brought to mind several conversations that I've had since Lisa's guest post. Some people have been extremely confused as to why I would invite a transgender person to share on my blog. To some, it seems like the ultimate sin – "a slap in God's face" as my Dad put it – to even entertain the idea of a transgender person. If God created us as either male or female, that is what we are supposed to be, and to switch gender is unthinkable. To some, the "T" in LGBT is terrifying, something that is so far away from Christianity that we can't even think about it. What depravity must go on in these people's lives in order for this to happen?
This train of thought surprises me.
I have been privileged in the past year to get to know some transgender individuals. Instead of what I thought was a choice, "I think I'll be a girl now!", I heard stories of kids who were ashamed of their bodies. Who knew, even at an incredibly early age, that how they identified inside did not reflect the bodies they were born into. Instead of a choice, they feel trapped. "I'm a girl! Why do I look like a boy?" These trapped feelings cause devastation and pain beyond belief. The suicide rate of transgender individuals is 25 times higher than the average population (1). Imagine, for a moment, what it would be like to feel trapped inside your body, feeling ashamed of your own body parts. This is not something that is chosen. Who would choose the rejection, the pain, and the hardship of transitioning? It's not the "easy road."
Yesterday, the Southern Baptist Convention passed a resolution that, as one blogger put it, "calls for all churches, hospitals and members of the SBC to condemn any person that identifies as transgender" (2). A blow to many transgender Christians and their friends. It made me very sad. Why? Because I think the SBC has it wrong. It affirms a binary view of gender, something that the medical world has long shown to be untrue (3). It also completely ignores the existence of intersex and transgender individuals.
I have heard many people quote Psalm 139 when it comes to the idea of transgender people. "You formed my inward parts. You wove me together in my mother's womb." God, directly and intentionally designed each and every one of us. Stitching us together piece by piece. If you came out a man, God made you that way, and that is the way you're supposed to be. We take this poetry as literal description of the procreation process.
I've made it clear before that I don't believe God chooses to work through meticulous providence – or the idea that every single thing that happens God actively wills. As I wrote extensively about in my six-part series on Open Theism a few years ago, I believe this view is disingenuous with the character of God. Thus, I get really uncomfortable when I hear people proudly proclaiming "God made me gay!" or even "God made me transgender!"
I don't think this is true.
It goes back to the fall of man, way back to Genesis where sin entered into the world and messed everything up. From that moment on, things were not as they should be.
We live in a world where there are natural processes messed up by the fall. The procreation process is one of those. Some of us are born different for reasons that we do not know. We can be born with disabilities, alternate sexual orientations, or with a body that does not match our minds. I don't think we can blame these things on God, they are a result of the brokenness of this world. The transgender person, for some reason, is born with an interior that does not match the exterior – as a manifestation of the imperfect world that we live in. Yet, in spite of this, we see God's redeeming work, making all things new, all things right.
I think that transgender people working to bring their bodies and minds together are beautiful examples of that redemption process.
There is a tangible reconciliation happening here. These people know early on that something is wrong. As transition happens, that wrong is being made right. The joy and peace that comes from those transitions is testament to that.
We don't view mental and physical disabilities as sin. Instead, we see them as beautiful things to embrace – things that make us unique, loved, cared for, and cherished. We see a God who loves us so deeply that he sent his Son into this broken world to usher in redemption and reconciliation. In Jesus, we see glimpses of a world where someday people will not be born into a body that doesn't match their minds. A world where we will have new bodies and where there will be no gender. He is weaving.
And, he is not done yet.
—–
(1) http://www.livescience.com/11208-high-suicide-risk-prejudice-plague-transgender-people.html
(2) http://www.mjkimpan.com/deplorable/
(3) https://www.youtube.com/watch?v=RgMiyp5bwrg
---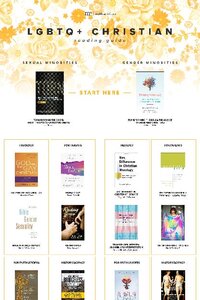 Get My LGBTQ+ Reading Guide!

Want to learn more but don't know where to start? This guide makes it easy.