Recently, I wandered to my favorite coffee shop and opened the book that I've slowly been working through. I sat, varying my attention between Dr. Kristen Neff's research on self-compassion, and the rain falling on the busy Seattle streets.
This afternoon, Neff had a punch ready for my gut. "Ask yourself the following questions. … Do I want to feel better than others, or to feel connected? … Does my worth come from being special, or from being human? … Do I want to be perfect, or do I want to be healthy?" Those questions distilled to a single question in my head, one that has annoyingly popped up as I put my chin up higher while passing that man who has a "better" body than me, or that woman who intimidates me:
Do I want to feel special, or do I want to feel connected?
This question feels tied to my very being, pitting my desire to be special, unique, noticeable, above, against my desire to be connected and in relationship. For Neff, the two cannot go hand in hand and that feeling of superiority tears away at our very personhood — it isolates us.
In one of my classes, we've been discussing C.S. Lewis and the way he views personhood, especially within his fiction. For Lewis, personhood is something that we never fully arrive at — it's something we become. It is a continual evolution, the interplay between desire, choice, and nature.
In these books, we see something incredible about the world that Lewis believes we live in: the universe is fundamentally wired in such a way that we will find what we are seeking. For better or for worse. Echoes of the words of Jesus.
We will find.
We will become.
In this, I find a profound, yet also grave, hope. Finding doesn't always look the way we want it to. Sometimes we will find only to have it slip through our fingers leaving us gasping for air between our tears. The seeking transforms us.
For those of us who are LGBT Christians, I think we have embodied experiences of this. We seek, searching for a world where we are welcomed, embraced, loved deeply and fully because of who we are, not in spite of. A world that we believe exists, somewhere. We search for it in the faces of those that we love, offering ourselves again and again. We don't always see welcome in those faces, so we turn and keep seeking.
And in this, we become something. I see it in the hearts and the souls of so many — people who welcome, people who embrace, people who love deeply. While we may not always be perfect, this is who we are becoming. We offer ourselves as hands and feet to the world, knowing the pain of not being welcome, and yet still offering welcome to others.
This is a beautiful thing.
Yet, I think this is exactly where we wrestle too. Because that question haunts me, "Do I want to feel special, or do I want to be connected?" We seek because we do not have. We seek because the world that surrounds us has said "you are not connected to us, change or leave." We seek because we are wounded, dragging ourselves along. Sometimes all we can do is speak messages to ourselves of isolation. "I don't need them, it doesn't matter what they think, I will show them."
Here's to what we are seeking. Here's to us who are holding worlds together with aching fingers. Here's to us who isolate, scream, and rage. These are the marks of the battle. These are the wounds of becoming. Here's to us who extend welcome with softness and tears. Here's to us who keep turning back to the communities that shut their doors.
Here's to who we are becoming.
Here's to us who dance between isolation and community. Here's to us who slam doors and then peek through them again. Here's to us who feel so special one moment and utterly worthless the next. Here's to us who work and work and work to gain features that make us attractive and wanted, only to find the emptiness still waving. Here's to the bridges we burn and the light that comes from them. Here's to us who ask questions of the world and of ourselves.
This is the work of Christ within us.
May we find welcome. May we find softness. May we find community in unexpected places. May we find light and love and hope and goodness in the faces that we meet.
"Seek and you shall find."
May it be so.
---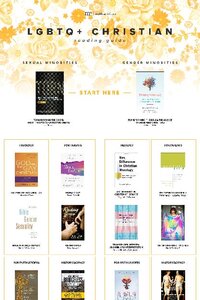 Get My LGBTQ+ Reading Guide!

Want to learn more but don't know where to start? This guide makes it easy.